Alice Andrews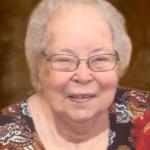 Alice Ruth Andrews, age 88, of Monroe, NC, passed away Wednesday, August 31, 2022 at Generations Ashe Assisted Living.
Mrs. Andrews was born December 26, 1933 in Buffalo, NY to the late Clyde and Florence Thorton Bump. In addition to her parents, she was also preceded in death by her husband of nearly 50 years, Chester Andrews, son, Thomas Andrews, sister, May McLam, and brother, Sydney Bump.
Alice was loved dearly by her family and friends and everyone she met. She loved God and she enjoyed going to church and singing along as loud as she could. Her favorite hymn was The Old Rugged Cross. Alice was a member of Laurel Fork Presbyterian Church. As a child she loved playing the accordion. She spent most of her married life in and around Salamanca, NY until the passing of her husband in 2010. She then moved to North Carolina in 2012 and enjoyed the nicer weather for the remaining years of her life. She loved her family very much. She was also a wonderful babysitter. She was always ready to pitch in and help others. Her favorite prayer to say was "Give us strength and courage not to give up."
Surviving are: daughters, Virginia (Terry) Brisley, Lawtons, NY, Barbara (Charles) Wilson, Bradford, PA, Debbie (Scott) Neubauer, Laurel Springs, NC; son, Chester (Diana) Andrews Jr., Aurora, NC; stepson, Timothy Andrews, Mobile, AL; 11 grandchildren; 23 great-grandchildren; 1 great-great-grandchild on the way; several brothers-in-law, sisters-in-law, nieces, nephews, and many other family members and friends.a
Friends may call at the O'Rourke & O'Rourke Inc Funeral Home, 25 River Street, Salamanca, NY on Saturday, September 10, 2022 from 10:30 – 11:30am, at which time funeral services will be held.
Burial will be in Steamburg Cemetery.
A luncheon will follow at 1 pm at the Center Street Baptist Church; 443 Center St. Salamanca, NY.
In lieu of flowers, the family suggests memorials be made to Medi-Home Hospice; PO Box 421, Jefferson, NC 28640.