Alice Werder Bares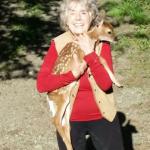 Alice Bares, 93, passed away peacefully on September 21, 2022 at her home in Ellicottville, NY.
Alice Werder Bares was born on February 22, 1929 in Cleveland, Ohio as the only child of John and Frances Werder.
Alice is preceded in death by her husband of 62 years, Jack. She is survived by her children: Lori (Bill) Northrup of Ellicottville, NY, John (Leona) Bares of Gibsonia, PA, Charlie (Liz) Bares of Franklinville, NY, Kent (Jeannine) Cavender-Bares of St. Paul, MN; eight grandchildren; and her cousins, Annette Keller and Jan Peck of Colorado.
Alice loved adventure. As a young woman she and her mother would travel to Aspen, Colorado to visit relatives. There, Alice fell in love with the landscape of the Rocky Mountains, spending time outdoors with her watercolor paints and taking in Western movies with her cousins, which sparked her lifelong love of horses. Alice was an accomplished artist, and had a successful silk-screening business in Chagrin Falls, Ohio when she met her future husband, Jack Bares. Her silk-screened fabrics hung as drapes in noteworthy buildings across the country, including the Wells Fargo Bank headquarters. She then transitioned to running a small hand tool business, in part so that she would be more aware of the manufacturing business run by Jack. Up until her last days, she was always eager to hear about the details of her children and grandchildren's activities, both in business and beyond.
While Chagrin Falls provided Alice and her family with exposure to the larger world, it was the weekend trips to the country that truly shaped the Bares family. Alice would pack their four kids, dogs, and Jack, with his briefcase of business reading, into their station wagon and head to the Aspen-of-the-East: Ellicottville, NY. In Ellicottville, Alice instilled her love of the outdoors, hard work, and adventure into her four children, their friends, and eventually her grandchildren. The hard work was the fun: clearing trails, swimming in the ponds, planting trees, making hay, and always horse-back riding. Alice and Jack moved full-time to Ellicottville in 2002. Alice rode her favorite Icelandic horse "Toppur" almost every day until she was 92.
Alice was up for anything: Hand Tool Institute conventions, Thursday evenings at the Cleveland Philharmonic, riding the train through Mexico's Copper Canyon, climbing Mt. Kilimanjaro, enjoying Andrea Bocelli concerts at his home farm in rural Italy, reading "Harry Potter" in French, and writing and publishing a children's book about her time on safari in Tanzania. She took family and friends on horse riding safaris in Kenya, skiing in Switzerland, hiking in Italy, Sicily, and France, to the glaciers of Alaska, and horseback riding in Iceland. But her true pride and joy was sitting at the head of her large dining table at the farm, sharing a meal and conversation with family.
A celebration of Alice's amazing life will be held on the family farm at 7365 Weller Road, Ellicottville, NY on October 22, 2022 at 11:00am outdoors, under a tent, as Alice would have loved it.
A donation may be made in Alice's name to either the Nature Conservancy at https://preserve.nature.org/page/81523/donate/1 or the Cleveland Philharmonic Orchestra at https://www.clevephil.org/.
Funeral arrangements are under the direction of the O'Rourke & O'Rourke Inc Funeral Home, 25 River Street, Salamanca, NY.
E-condolences can be sent to orourke.orourkefh@gmail.com or posted to facebook.com/onofh.