Amber Crouse-Armstrong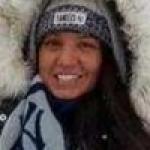 Amber Crouse-Armstrong, 34, of Salamanca, NY died Sunday, January 6, 2019 unexpectedly in Buffalo, NY.
Born April 10, 1984 in Jamestown, NY, she was the daughter of Martin W. "Jeep" (Jen Willet) Crouse Jr. and Gilbetine Halftown, both of Salamanca, NY.
She was an enrolled member of the Seneca Nation of Indians, the Wolf Clan, and the Coldspring Longhouse.
She was a graduate of Salamanca High School, Class of 2002.
Amber had been employed as a bookkeeper with the Seneca Nation of Indians
She enjoyed spending time with her family, especially the joy of her life, her daughter. She also liked body art.
Surviving besides her parents are: a daughter, Richelle Armstrong, Olean, NY; two sisters, Elisabeth (Elijah Brisley) Barnes, Salamanca, NY, Bridgette (Cody) Crouse, Youngsville, PA; two brothers, Benjamin Armstrong, Buffalo, NY, Cody (Montana Hill) Barnes, Tonawanda Reservation; two half-sisters, Sam (Ty) Smith, CO, Ronnie Willet, Salamanca, NY; paternal grandparents, Martin Crouse Sr. and Joyce Huff, both of Salamanca, NY; maternal grandmother, Sandra Dowdy, Steamburg, NY; several nieces and nephews.
She was predeceased by two brothers, Andrew John and Justin "Jeep" Crouse, and maternal grandfather, Dar Dowdy.
Friends may call at the O'Rourke & O'Rourke Inc Funeral Home, 25 River Street, Salamanca, NY on Wednesday, January 9, 2019 from 2 – 4 and 7 – 9pm.
Funeral services will be held in the funeral home on Thursday at 10am with members of the Coldspring Longhouse officiating.
Burial will be in Hillside Haven Cemetery, Steamburg, NY.
E-condolences can be sent to orourke.orourkefh@gmail.com or posted to facebook.com/onofh.