Anna Mae McMillen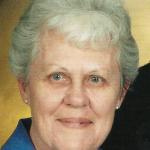 Anna Mae McMillen, 94, Salamanca, NY, died Tuesday, September 12, 2023 at Tanglewood Manor, Jamestown, NY following a long illness.
Born March 12, 1929 in Knox Dale, PA, she was the daughter of the late Harold Burton and Anna Mae Case Wolfe. She was married September 12, 1949 in La Jose, PA to Ned E. McMillen, who predeceased her on June 26, 2016.
She was a member of St. Paul's Lutheran Church in Ellicottville, a charter member of the See Saws Square Dance club, and taught Sunday school at various churches throughout the years. She did volunteer work with Nomads and Habitat for Humanity.
Surviving are: three sons, Ivan (Susan) McMillen, North Tonawanda, NY, Kevin (Jane) McMillen, Salamanca, NY, Vern (Deborah) McMillen, Randolph, NY; a daughter-in-law, Charlene Boza McMillen, Beckville, TX; nine grandchildren, Adam (Donna) McMillen, Tucson, AZ, Daniel McMillen, Henderson, TX, Jacob McMillen, Portland, OR, Beth McMillen, Honduras, Andrew (Sarah) McMillen, Bluffton, SC, Michael (Sabrina) McMillen, Cheektowaga, NY, Rebecca McMillen, Salamanca, NY, Kaitlin (Bryan) Wilson, Alysia (Jeffrey) Durow, both of Randolph, NY; seven great-grandchildren, Cason McMillen, Henderson, TX, Aiden Wilson, Austin Durow, Carter Durow, Bristol Durow, Raelynn Wilson, all of Randolph, NY, Bryson McMillen, Bluffton, SC; a brother, William (Karen) Wolfe, Knox Dale, PA; several nieces and nephews.
She was predeceased by a son, Byron Lee McMillen, and a granddaughter, Kristen McMillen.
Friends may attend a memorial visitation at the O'Rourke & O'Rourke Inc Funeral Home, 25 River Street, Salamanca, New York on Tuesday, September 19, 2023 from 4 – 6pm.
A memorial service will be held at St. Paul's Lutheran Church, 6360 Route 242, Ellicottville, NY on Wednesday at 10am with Rev. Daniel Buringrud officiating.
Burial will be in Green Cemetery, Great Valley, NY.
E-condolences can be sent to orourke.orourkefh@gmail.com or posted to facebook.com/onofh.