Anne "Nan" Livak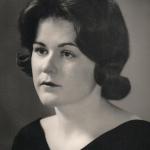 Mrs. Anne "Nan" Maureen Quinn Livak, 82, of Salamanca, NY died Wednesday evening, September 15, 2021 at home.
Born July 9, 1939 in Salamanca, NY, she was the daughter of the late James Eugene and Anne Conway Quinn. She was married in the former St. Patrick's Church on September 1, 1962 to Charles Livak, who predeceased her in 2007.
She was a graduate of Salamanca High School, Class of 1957 and had attended the former St. Patrick's Parochial School. She attended Mercy Hospital School of Nursing in Buffalo, NY as well as Dutchess Community College in Poughkeepsie, NY.
Mrs. Livak had been employed as a salesclerk at the former Hampshire Mills for over 10 years.
She was a member of Our Lady of Peace Parish and the Beta Sigma Phi Zi Beta Upsilon Chapter. She especially enjoyed spending time with family. She also enjoyed gardening, the outdoors, and skiing.
Surviving are: two beloved sons, Thomas (Cara) Livak, Salamanca, NY, Timothy Livak, Laguna Hills, CA; four grandchildren, Adam Thomas Livak, Springville, NY, Siena and Luca Livak, Laguna Hills, CA, Jeremy Camilloni, Austin, TX; a brother, John C. (Cynthia) Quinn, Mendon, NY; several nieces and nephews.
She was predeceased by her brother, Thomas Quinn, daughter-in-law, Alexandra Livak, sister-in-law, Wanda Livak, as well as several others.
There will be no visitation.
A Mass of Christian Burial will be held in Our Lady of Peace on Wednesday, September 22, 2021 at 10am with Rev. Mariusz Sierhart, pastor, as celebrant.
Burial will be in Calvary Cemetery, Salamanca, NY.
E-condolences can be sent to orourke.orourkefh@gmail.com or posted to facebook.com/onofh