Arthur. E. Cooney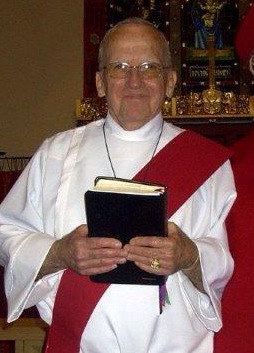 The Rev. Arthur Cooney, age 86, of 67 Highland Avenue, Salamanca, New York died early Wednesday morning, October 8, 2014 at his home following an illness.
Born October 10, 1927 in Ellicottville, New York, he was the son of the late Louis & Mary Lovette Cooney. He was married on October 9, 1947 in Salamanca, New York to the former Wilma Wyatt, who survives.
Mr. Cooney was a veteran of the U.S. Navy serving on the Forster 334 in the Pacific Theatre during WWII. He was awarded the WWII Victory Medal, Occupation of Japan Medal, and the Pacific Battle Ribbon.
He was employed for the Chessie Railroad in Salamanca, New York for 30 years, retiring in 1976. During the 60's and 70's he was also employed part time by the Cattaraugus County Sheriff's Office as a Dispatcher and Corrections Officer.
Mr. Cooney attended St. Bonaventure University, Holy Rood Episcopal Seminary, Liberty, New York, and Christ The King Episcopal Seminary in East Aurora, New York. He was a Deacon at St. Mary's Episcopal Church in Salamanca, New York and a supply Deacon at St. Barnabas Church in Franklinville, New York. He was a musician, playing locally as well as in the Johnny Keenan Banjo Fest in Longford, Ireland. He was a member of the Musicians Union Local 134, Jamestown, NY. Over a period of several decades he played the banjo professionally at everything from political rallies, the Chautauqua Belle, Fentier Village and numerous charity events.
Mr. Cooney was a 50 year member of the Great Valley Masonic Lodge F&AM #1178.
Surviving are: 5 daughters, Linda (Leonard) DeBoy, Randolph, NY, Gail (Fred) Thompson, Little Valley, NY, Kathryn (Gary) Thrush, Salamanca, NY, Janet Cooney, Charlotte, NC, Donna (Robert) Reynolds, Salamanca, NY; 2 sons, Arthur (Julie) Cooney, Elkdale, NY, David Cooney, Allegany, NY; 15 grandchildren; 7 great grandchildren.
He was predeceased by a granddaughter, Mindy Cooney, a brother, Franklin Cooney, and a sister, Genevieve Cooney. He was also predeceased by lifelong family friends and fellow musicians, piano players, Harry Surdam and Gil Krause.
Friends may call at the O'Rourke & O'Rourke Inc. Funeral Home, 25 River Street, Salamanca, New York on Friday, October 10, 2014 from 6 – 9 P.M.
Funeral services will be held at St. Mary's Episcopal Church on Saturday morning at 11 a.m. with Rev. Michael Lonto, pastor, officiating.
Full military honors will be conducted by members of the American Legion Hughes-Skiba Post #535 and the Veterans of Foreign Wars John F. Ahrens Post #5296. The Masonic Lodge will conduct Masonic Services in the funeral home on Friday evening at 6:30 P.M..
Burial will be in Wildwood Cemetery, Salamanca, New York.
E-condolences can be sent to john@orourke-orourke.com or posted to facebook.com/onofh.