Barry J. Yuhas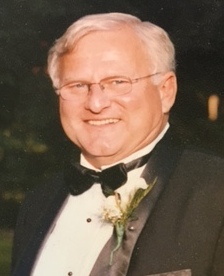 Mr. Barry J. Yuhas, 68, of Salamanca, New York died early Tuesday morning, June 14, 2016 at his home following a long illness.
Born May 15, 1948 in Buffalo, New York, he was the son of the late James and Joyce Thomas Yuhas. He was married in Olean, New York on October 1, 2005 to the former Elizabeth "Betty" Milanowski, who survives.
Mr. Yuhas was a graduate of Kenmore East High School, and attended the University of Buffalo, where he received his Bachelor's Degree in English.
He was a veteran of the United States Navy, serving aboard the USS John F. Kennedy.
Mr. Yuhas spent his adult life in the lumber industry, and had been employed as Vice President and General Manager of Salamanca Lumber Company, retiring in 2010. He had previously been employed with Kane Hardwood in Kane, Pennsylvania and the former Donver in Salamanca, New York. His work took him all around the world, grading lumber.
He enjoyed spending time with his family, the outdoors, hunting and fishing. He enjoyed playing cards and being with his dogs, Zsa Zsa, Sally, and Roxie Blue. He was well-read and had a great knowledge of world history.
He was a member of Our Lady of Peace Parish in Salamanca and the Veterans of Foreign Wars John F. Ahrens Post 5296.
Surviving beside his wife are: two daughters, Kim (Rocky) Mehta, Stanley, NC, Barb (Steve) Buckley, Burbank, CA; a son, Alex (Erin Deming) Yuhas, Olean, NY; a stepson, Michael (Melissa Harrington) Milanowski, Salamanca, NY; two granddaughters, Allison Mehta and Priya Mehta, both of Stanley, NC; five grandsons, Bryant Johnson, Brandon Milanowski, Karson Milanowski, all of Salamanca, NY, Abhi Mehta, Stanley, NC, Brody Buckley, Burbank, CA; two sisters, Linda (Mike) Kantor, Naples, FL, Mona (Bob) Hemeon, Danvers, MA; a brother, Thomas (Renee) Yuhas, Montvale, NJ; an aunt, Ethel Yuhas, Batavia, NY; several nieces and nephews.
Friends may call at the O'Rourke & O'Rourke Inc Funeral Home, 25 River Street, Salamanca, New York on Sunday, June 19, 2016 from 5 – 9 p.m.
A Mass of Christian Burial will be held in Our Lady of Peace Parish on Monday at 10:30 a.m. with Rev. Peter Napierkowski, pastor, as celebrant.
Full military honors will be conducted by members of the Veterans of Foreign Wars John F. Ahrens Post 5296 and the American Legion Hughes-Skiba Post 535.
Burial will be in Calvary Cemetery, Salamanca, New York.
In lieu of flowers, the family suggests memorials the Leukemia & Lymphoma Society or St. Jude's Children's Research Hospital.
E-condolences can be sent to john@orourke-orourke.com or posted to facebook.com/onofh.