Beverly N. Kahm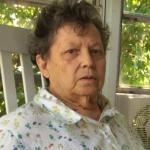 Mrs. Beverly N. Kahm, 91, formerly of East Bucktooth Run Road, Little Valley, NY, died Monday, May 22, 2023 at Salamanca Rehabilitation & Nursing Center following a long illness.
Born August 12, 1931 in Salamanca, NY, she was the daughter of the late Willis and Ruth McKinley Johnson. She was married July 2, 1951 in the former Kissinger Memorial Evangelical United Brethren Church to the late Glenn Kahm who predeceased her in 2002.
Mrs. Kahm graduated from Salamanca High School, Class of 1949.
She was employed in the hardware department of Fisher's Big Wheel for over ten years.
Mrs. Kahm enjoyed spending time with her family, cooking and she will be remembered for her special desserts. She taught Sunday School and Vacation Bible School for many years with her good friend Ellen "Totsie" Rettberg. She enjoyed the outdoors, camping, fishing, oil painting, and bird watching.
Surviving are: a daughter, Terry (Jack) Kerswill, Salamanca, NY; two sons, Mark (Geneiva) Kahm, McHenry, MS, David (Kasey) Kahm, Knoxville, TN; two sisters Irma (Spencer) Pierce, Kill Buck, NY, Carolyn (Robert) Terhune, Bucktooth Run, Little Valley, NY; two granddaughters, Amanda Kahm, Charlotte, NC, Jessica Kahm, McHenry, MS; four grandsons, David Mohr, Cattaraugus, NY, Brandon (Allison) Kahm, Raleigh, NC, Jonah Kahm, Jaret Kahm, both of Knoxville, TN; a great granddaughter, Destinee Kahm, McHenry MS; several nieces and nephews.
She was predeceased by a daughter, Holly VanHorn, a grandson, Michael Mohr, and a brother, Terence Johnson.
There will be no visitation.
A memorial service will be held at the Riverside Chapel, 134 Broad Street, NY on Thursday, May 25, 2023 at 11am with Rev. Mike Peters officiating.
Burial will be in Crawford Cemetery.
In lieu of flowers, the family suggests memorials be sent to the Riverside Chapel.
Funeral Arrangements are under the direction of the O'Rourke & O'Rourke Inc. Funeral Home, 25 River Street, Salamanca, NY.
E-condolences can be sent to orourke.orourkefh@gmail.com or posted to facebook.com/onofh.