Carmelina Chapman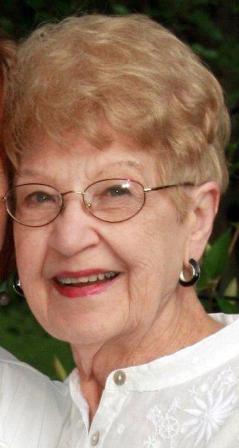 Carmelina Chapman was born on August 18, 1922 in Iron Mountain, Michigan, the only child of Antonio and Assunta Izzo Pellegrino. She graduated from Iron Mountain High School in 1940. Upon graduation, Carmelina moved to Milwaukee, Wisconsin to attend Comptometer School and lived at the Girls Club where she made many life-long friends. Due to the onset of World War II, she returned to Iron Mountain in fear that her father would be called to duty. It is during this time that Carmelina gained employment at the Ford Plant accounting office where they converted their automobile manufacturing to glider production; which helped to assist in the war effort.
Carmelina married Myron Chapman of Kingsford, MI on June 1, 1946. They were blessed with a loving 62 year marriage until Myron's passing in 2008. They moved from Michigan in 1958 to the warm climate of Fort Lauderdale, Florida where they raised three daughters. Carmelina began a career working for the Broward County Tax Collector where she became a supervisor and developed the first Auto Tag by Mail Service. Upon retirement in 1985, Carmelina and Myron moved to Indian Harbor Beach, Florida. In 2002, they moved into their daughter Gina's home in Salamanca, NY. Following an injury while traveling in 2011, Carmelina moved to Cameron Hall in Ellijay, Georgia near her daughter, Mary.
Carmelina was an active member of the Lauderdale Isle Yacht Club, where she was in the cast of many musical performances. She was an avid square dancer and an accomplished duplicate bridge player who also loved reading, literature, crossword puzzles, music and travel. She was a proud and loving wife, mother and grandmother. Carmelina was a member of Our Lady of Peace Parish in Salamanca, NY.
Carmelina is survived by three daughters, Mary (John) Young of Ellijay, GA, Gina (James) Valent of Salamanca, NY and Carmen (George Byrne) Fraser of Montclair, VA, ten grandchildren and 11 great-grandchildren.
A memorial mass will be held on September 1, 2014 at 11 a.m. at Our Lady of Peace Parish, with Father Patrick Melfi, as celebrant.
In lieu of flowers, the family suggests that memorials be made to one of the following: Georgia Mountain Hospice, 70 Caring Way, Jasper, GA 30143; Our Lady of Peace Roman Catholic Church, 274 Broad Street, Salamanca, NY; Salamanca Public Library, 155 Wildwood Avenue, Salamanca, NY 14779.
E-condolences can be sent to john@orourke-orourke.com or posted to facebook.com/onofh.