Catherine "Katie" Barhite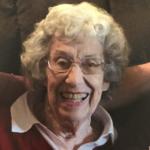 Mrs. Catherine Marie Barhite, 97, formerly of Salamanca, New York, went to dance once again with the love of her life, Bill Barhite on Tuesday, February 25, 2020. She resided with her daughter, Mary Lynn Perry, Howard, Ohio, until July 2017. Since then she has been a resident of Whispering Hills Nursing Home, Mount Vernon, Ohio. A special thanks to all who loved and cared for her there. And thanks to Hospice of Knox County for your devoted attention to her in her final days.
Born September 27, 1922, in Salamanca, NY, she was the daughter of the late Matthew and Frances Conte. She was married April 4, 1946 and celebrated over 50 years of marriage to William N. Barhite, who preceded her in death April 26, 1998.
She was also preceded in death by her loving son, Jeffrey William Barhite, on February 13, 2014 and her son-in-law Daniel Eugene Perry on February 11, 2015. Also leaving this world before her are 5 sisters Connie Hook, Josephine Hill, Anna Carmody, Mary Constantino, Fannie Perry; and 2 brothers, Rocco Conte and Dominic Conte.
She is survived by her daughter Mary Lynn (Daniel) Perry of Mount Vernon, Ohio, her grandchildren, Jeffrey Perry and Julie (Joseph) Rodella, great granddaughter Reagan Danielle Rodella and her sister, Mrs. Clara (James) Donnellan of Van Heights, Minnesota, and several nieces and nephews.
Katie was a self-employed hairdresser for 47 years out of her home so that she could always be there for her children. She was a member of the former St. Patrick's Church, St. Patrick's Altar and Rosary Society, Mr. & Mrs. Club at St. Patrick's Church, Quadays Art Club, Quadrille Dance Club, Newman Reading Circle and Elkdale Country Club. She loved playing golf and in her later years, playing bridge and sharing stories about her antiques. Her most favored moments were those spent with her son Jeffrey and 'grand-dogs' Henry and Fred, her daughter, Mary Lynn and Danny, grandson, Jeffrey Perry, granddaughter Julie Rodella and her husband Joseph Rodella, and her great granddaughter Reagan Danielle Rodella.
There will be no public visitation. A Mass of Christian burial will be held on Saturday, March 7, 2020 at 11:00 a.m. at Our Lady of Peace RC Church, with Rev. Mariusz Sierhart as celebrant. Entombment will be in Calvary Cemetery, Salamanca, NY.
Funeral arrangements are under the direction of the O'Rourke and O'Rourke Inc. Funeral Home, 25 River St., Salamanca, NY.
E-condolences may be sent to orourke.orourkefh@gmail.com or posted to facebook.com/onofh. In lieu of flowers, the family suggests memorials to Our Lady of Peace RC Church, Broad St., Salamanca, NY or the Salamanca Public Library.