Charles "Catman" Redeye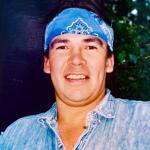 Charles "Catman" Redeye, 61 of Salamanca, NY, died Wednesday, November 16, 2022 at Olean General Hospital following a short illness.
Born June 2, 1961 in Salamanca, NY he was the son of Kathryn J. Jimerson Redeye, and the late Earl R. Redeye Sr.
He was an enrolled member of the Seneca Nation of Indians and of the Hawk clan.
He was a graduate of Salamanca High School, Class of 1979.
Charles had been employed as a Game Warden with the SNI Conservation Department for over 10 years and had worked in other capacities with the Nation.
He enjoyed spending time with his family especially his grandchildren, the outdoors, hunting, and fishing. He also enjoyed cooking and was an avid reader and liked to write and draw. He will be remembered for his sense of humor and the ability to make people laugh.
Surviving besides his mother are: two daughters, Michala Redeye, Salamanca, NY, Kailee Redeye, Jimersontown, NY; three sons, Jack (Courtney) Redeye, Salamanca, NY Patrick (Geena Maybee) Redeye, Salamanca, NY, Charles "Booty" Redeye, Kill Buck, NY; four granddaughters, Lailee Pierce, River Skoken, Paisley Haines, Nova Redeye; five grandsons, Darcey Redeye, Carson Redeye, Tanner Haines, Slader Pengelly, Benz Redeye, Jett Redeye; three sisters, Valerie (Joel) Bennett, Perrysburg, NY, Sally (Donald) John, Jimersontown, NY, Leslie (Marc) John, Steamburg, NY; three brothers, Earl (Krista Jacobs) Redeye Jr., Steamburg, NY, John Redeye, Jimersontown, NY, Greg (Melissa) Miller, Salamanca, NY; mother of his children Jeanne Patterson; several aunts, uncles, nieces and nephews.
He was predeceased by his nephew, Ezra Redeye.
Friends may call at the family home, 3650 Center Road, Salamanca, NY beginning Friday evening, November 18, 2022 and continuing all day Saturday.
Funeral Services will be held at the family home on Sunday at 10am with Winfield Bowen officiating.
Burial will be in Memorial Heights Cemetery, Jimersontown, NY.
E-condolences can be sent to orourke.orourkefh@gmail.com or posted to facebook.com/onofh.