Colter L. Oldshield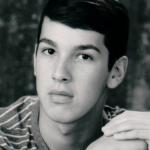 Mr. Colter L. Oldshield, 22, of Salamanca, NY died suddenly Saturday evening, December 12, 2020 in Salamanca.
Born January 17, 1998 in Olean, NY, he was the son of Toniette Lounsbury Oldshield of Salamanca and the late Bill "Butch" Oldshield.
Colter was a graduate of Salamanca High School Class of 2016 and attended Fredonia State College. He played varsity football and was in All-County Band.
He had a love for food and fashion and enjoyed being social. He enjoyed the outdoors, skiing, running, and kayaking.
Surviving besides his mother are: three sisters, Andrea (Decker Runn) Lounsbury, Salamanca, NY, Yebishawn Oldshield, Carli Dee Buffalo; seven brothers, Thomas Oldshield, CO, Greg Oldshield, Thunder Oldshield, Dustin Frank, Sky Horne, Owintino Horne, Bill Smoke; two nephews, Mannix Lounsbury Runn, Howell Lounsbury Runn, both of Salamanca, NY; maternal great-grandmother, Frances Morton, Salamanca, NY; several aunts, uncles, cousins, nieces, and nephews.
Friends may call at the O'Rourke & O'Rourke Inc Funeral Home, 25 River Street, Salamanca, NY on Tuesday, December 15, 2020 from 2 – 4 and 7 – 9 p.m.
Funeral services will be held in the funeral home on Wednesday at 11 a.m. with Pastor Winfield Bowen of the Red House Memorial Chapel officiating.
Due to COVID-19 and capacity restrictions in the funeral home, the family encourages friends to attend the committal service at Hillside Haven Cemetery, Steamburg, NY at approximately 12 p.m. on Wednesday, when burial will be held.
E-condolences can be sent to orourke.orourkefh@gmail.com or posted to facebook.com/onofh.