Courtney C. Atkins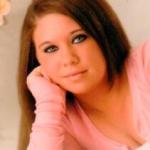 Courtney C. Atkins, 29, of Great Valley, NY died Friday morning, August 27, 2021 at Olean General Hospital following a brief illness.
Born January 24, 1992 in Springville, NY, she was the daughter of Michael and Shelley Gray Atkins, who survive.
She was a graduate of Salamanca High School, Class of 2010 and attended Jamestown Business College and Jamestown Community College.
Courtney loved to laugh; she loved comedy clubs and "Impractical Jokers". She loved anything to do with water: fishing and beaches (especially Kite Beach at Presque Isle). She loved music (especially classic rock or "jammin'" with Brady to hip hop); she loved little kids and animals and she will be desperately missed.
In addition to her parents of Great Valley, she is survived by her brother, Brady Atkins of Great Valley; her paternal aunt, Deb (John) Atkins Manos of Rochester and their children, Stacey Manos, VT and Eleni Manos, Rochester; her paternal uncle, Scott (Jody) Atkins of Salamanca and their children, Nickolas (Jessica Mullens) Johnston, Danville, NY, Lee (Danielle Reynolds) DeBoy, Salamanca (and their children Frankie and Chapman), Randi (Vanessa) DeBoy, AK; her maternal aunt, Cindy (Larry) Washington, CT and their children, Barbara (Mark) Leuly, Long Island (and their children Shane and Garrett), Christopher (Allison) Washington, CT (and their children James, William, and Thomas); her maternal aunt and Godmother, Jill Gray of Salamanca; maternal aunt, Tina (Kevin Franklin) Gray of NC and her children, Amber (Lee) Bryant (and their children Ava Gray Bryant and Mitchell Ira Bryant), Cameron (Paige) Gray, AK; her three best girlfriends, Christina Martens, Britt Duhan, and Rebecca Brown; her special friend Matt Gilbert; her "other brother", Jack O'Rourke; and her favorite feline "child" Collins.
She was predeceased by her paternal grandparents, Richard "Beans" Atkins and Helen Atkins, her maternal grandparents, Raymond J. "Coach" Gray and Rosemary and Allen Koubel, her maternal uncle and Godfather Mitchell R. Gray, and her family pets, Frankie Joe and Kira.
A private memorial service will be held at the convenience of the family.
Funeral arrangements are under the direction of the O'Rourke & O'Rourke Inc Funeral Home, 25 River Street, Salamanca, NY.
In lieu of flowers, the family suggests memorials to St. Jude Children's Hospital or the SPCA.
E-condolences can be sent to orourke.orourkefh@gmail.com or posted to facebook.com/onofh.