Crystine L. Jimerson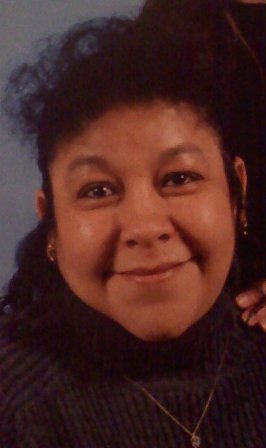 Crystine L. "Tina" Jimerson, age 50, of Salamanca New York died early Friday morning, June 28, 2013 at The Absolut of Salamanca, Salamanca, New York . Born July 25, 1962 in Rosebud, South Dakota, she was the daughter of Calvin "Cabby" and Martha Dillon Jimerson of Jimersontown, who survive. Also surviving is her loving companion, Kevin Wilson.
She was a graduate of Salamanca High School Class of 1980.
She was employed as a cashier at Smokin' Joe's in Salamanca. She had previously been employed with the Seneca Nation of Indians Department of Public Works and at the former dental clinic, Steamburg, New York.
She was a member of the AIRVFD serving as an EMT. She enjoyed camping, reading, singing, and playing musical instruments.
Surviving besides her parents are: 1 daughter, Deanna (Keith LeRoy) Jimerson, Salamanca, NY; 1 son, Abraham Wilson, Salamanca, NY; 1 granddaughter Callee LeRoy, Salamanca, NY; 1 sister, Crystal (Joseph) Bunic, Springville, NY; 1 nephew, Mitchell Bunic, Springville, NY; a paternal grandmother, Bernice Jimerson, Jimersontown, NY; and many loving aunts, uncles, and cousins.
She was predeceased by a brother, Ronald Jimerson, a paternal grandfather, Rev. Blanchard Jimerson, and maternal grandparents, Abraham and Ada Dillon.
Friends may call at the O'Rourke & O'Rourke Inc. Funeral Home, 25 River Street, Salamanca, New York on Sunday, June 30, 2013 from 4 – 7 p.m, where funeral services will be held on Monday July, 1st, 2013 at 11 a.m. with Brandon Crouse of the Immanuel Missionary Church officiating.
E-condolence can be sent to john@orourke-orourke.com or posted to facebook.com/onofh.