Daniel J. Steinbroner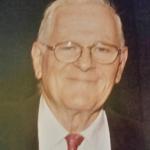 Mr. Daniel J. Steinbroner, 88, of Olean, NY, died at the Pines Nursing Home in Olean, NY on March 13, 2020 following a long illness.
Born May 11, 1931 in Salamanca, NY, he was the son of the late George and Alice Hogue Steinbroner. He was married to the former Lois "Punky" Fuller on June 14, 1952 in Limestone, NY.
Mr. Steinbroner attended Salamanca High School and joined the US Army at age 17. He served for 20 years, serving in Okinawa, Korea, Vietnam, and Germany. He was the youngest to ever achieve the rank of Command Sergeant Major.
He enjoyed spending time with family, especially his grandchildren. He also enjoyed billiards, playing volleyball when he was overseas, and was an avid baseball and football fan, he loved the Yankees and the Buffalo Bills.
Surviving besides his wife are: five daughters, Judy Shelton, CA, Karen (Floyd) Rogers, Olean, NY, Ann (Dana) Green, Woodruff, SC, Theresa (David) Coffee, Highland, CA, Linda (Joseph) McFarland, FL; a son, Daniel (Rose) Steinbroner Jr., Lawton, Oklahoma; sixteen grandchildren; six great grandchildren; a sister, Frances (Roger) Lord, Salamanca, NY; several nieces and nephews.
He was predeceased by an infant son, David James Steinbroner, seven sisters, Sue Steinbroner, Mary Morrisey, Lucille Wilcox, Alice Scanlon, Jeanette Crater, Ruth Beckwith, Marjorie Steinbroner, five brothers, Gerald Steinbroner, Frederick Steinbroner, Jack Steinbroner, Thomas Steinbroner, and George Steinbroner.
Friends may call at the O'Rourke & O'Rourke Inc. Funeral Home, 25 River Street, Salamanca, NY on Monday, March 16, 2020 from 12 – 2pm at which time funeral services will be held with Rev. Patrick Melfi of St. John's Roman Catholic Church, officiating.
Burial will be at Wildwood Cemetery.
Full military honors will be conducted by members of the American Legion Hughes-Skiba Post 535 and the Veterans of Foreign Wars John F. Ahrens Post 5296.
E-condolences can be sent to orourke.orourkefh@gmail.com or posted to facebook.com/onofh.