Daniel W. Kruszynski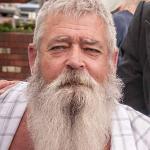 Daniel W. Kruszynski, 62, of Great Valley, NY died early Tuesday morning, December 31, 2019 at Olean General Hospital with family by his side, following a long illness.
Born November 18, 1957 in Buffalo, NY, he was the son of the late Daniel and Mary Kay Rummings Kruszynski. He was married on January 15, 1982 in Great Valley to the former Becky Swihart, who survives.
He was a graduate of Hamburg High School, Class of 1975.
He was a union mason with Local #3 Bricklayers & Allied Craftworkers, Buffalo NY for over 30 years.
Dan enjoyed the outdoors, camping, hunting, and ice fishing. He enjoyed watching professional bull riding and was a Buffalo Bills fan. He also enjoyed listening to older country music and took pride in his John Deere tractor.
Surviving besides his wife are: two sons, Gary (Sambol) Kruszynski, Edmond, OK, Daniel (Carla) Kruszynski, Ellicottville, NY; four granddaughters, Malia (David Sachs) Woodward, Morehead, KY, Danielle Kruszynski, Audrey Kruszynski, both of Edmond, OK, Cayda Kruszynski, Ellicottville, NY; two grandsons, Jackson Kruszynski, Daniel Kruszynski, both of Ellicottville, NY; a sister, Mary Jane Kruszynski, North Boston, NY; a brother, Robert (Peggy) Kruszynski, Hamburg, NY; a sister-in-law, Susan Kruszynski, North Boston, NY; a dear friend, Thomas Schultz, Great Valley, NY; several nieces and nephews.
He was predeceased by a brother, Frank Kruszynski.
Friends may call at the O'Rourke & O'Rourke Inc Funeral Home, 25 River Street, Salamanca, NY on Friday, January 3, 2020 from 2 – 4 and 7 – 9 p.m.
Funeral services will be held in the funeral home on Saturday at 11 a.m. with Rev. Lukasz Kopala, Holy Name of Mary RC Church, officiating.
In lieu of flowers, the family suggests memorials to American Lung Association
Burial will be in Green/Willoughby Cemetery, Great Valley, NY.
E-condolences can be sent to orourke.orourkefh@gmail.com or posted to facebook.com/onofh.