Daniel W. Percy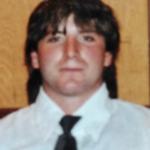 Daniel Percy, 50, of Forestville, NY died Friday, February 18, 2022 at Brooks Memorial Hospital, Dunkirk, NY following a long illness.
Born September 7, 1971 in Salamanca, NY, he was the son of Thomas Percy, Salamanca, and Edna (Roy Alcorn) Bowles Pettit, Forestville.
He was a graduate of Forestville High School, Class of 1989.
Daniel had been employed with Merritt Winery for over twelve years and he had previously worked in landscaping.
He enjoyed the outdoors, fishing, and was an avid baseball and basketball fan who played both in high school. He was also a Buffalo Bills fan and enjoyed watching old TV shows, especially westerns.
Surviving besides his parents are: a son, Ryan Percy, West Seneca, NY; a sister, Darla Horning, Salamanca, NY; a brother, Justin Pettit, Forestville, NY; several aunts, nieces, nephews, and cousins.
He was predeceased by a brother, Jeffrey Percy.
Friends may call at the Riverside Chapel, 134 Broad Street, Salamanca, NY Saturday, March 12, 2022 from 11 - 12pm at which time a memorial service will be held with Pastor Mike Peters officiating.
A graveside service will be held in Wildwood Cemetery, Salamanca, NY on Saturday, July 23, 2022 at 11am with Pastor Ben Good officiating.
In lieu of flowers, the family suggests memorials be sent to the Forestville Fire Company, 18 Chestnut Street, Forestville, NY 14062.
Funeral arrangements are under the direction of the O'Rourke & O'Rourke Inc Funeral Home, 25 River Street, Salamanca, NY.
E-condolences can be sent to orourke.orourkefh@gmail.com.