Danielle J. Redeye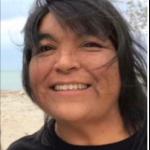 Danielle J. "Frybread Queen" Redeye, 51, of Steamburg, NY, died Saturday evening, October 16, 2021 in her home surrounded by her family following a long illness.
Born June 23, 1970 in Olean, NY she was the daughter of Corliss Jean Bucktooth, Steamburg, NY and the late Danny Max Johnson. She was married June 27, 2009 in Niagara Falls, NY to Brandon Redeye who predeceased her in 2013.
She was a member of the Seneca Nation of Indians and the Turtle Clan.
Danielle was a graduate of Salamanca High School, Class of 1988. She also attended Monroe Community College.
She was a caterer who owned and operated the Coldspring Café for over 15 years. She had also been employed with the Seneca Nation of Indians working as a supervisor in accounts payable, a cashier at Seneca Bingo, and a budget monitor for SNI Conservation.
She enjoyed spending time with family, cooking, the outdoors, kayaking, and attending PowWow's as a food vendor. She played softball with various leagues and catered to the men's snowsnake community. She was also an avid NASCAR fan, favorite driver #8 Kyle Busch.
Surviving are: a daughter, Elsie Redeye, Steamburg, NY; significant other, Patrick Jimerson, Steamburg, NY; three sisters, Bethany Johnson, Salamanca, NY, Stevie (Regis) Bucktooth, Jimersontown, NY, Monica (Ricardo) Juarez, Tallahassee, FL; five brothers, Darren (Sheila) Johnson, Salamanca, NY, Jeremy (Melissa) Bucktooth, KY, Jerome (Carly) Bucktooth, Salamanca, NY, Regis (Joleen) Bucktooth, Coldspring, NY, Cory (Amanda) Bucktooth, Salamanca, NY; 21 nieces & nephews, Jocelyn, Chelsea, Adrianne, Kamryn, Ellsworth, Mamie, & Otelia Cook, Morgan & Marlee Maybee, Emma & Connor Johnson, Keedin, Carter, Vada, Lyla, Liam, Logan, Ashton, Kyran, & Winter Bucktooth, Kayla Jackson; 5 great nieces & nephews, Acelynn, Duey, Coraline, Tyler & Somiya.
Besides her husband, she was predeceased by her brother, Floyd "Knuckles" Bucktooth IV and her step father, Floyd E. Bucktooth III.
Friends may call at the family home, 136 North Loop Road, Steamburg, NY beginning Monday afternoon, October 18, 2021 and continuing all day Tuesday.
Funeral services will be held at the Coldspring Longhouse Wednesday at 11am with members of the Coldspring Longhouse officiating.
Funeral arrangements are under the direction of the O'Rourke & O'Rourke Inc. Funeral Home, 25 River Street, Salamanca, NY.
E-condolences can be sent to orourke.orourkefh@gmail.com or posted to facebook.com/onofh.