Darryl M. John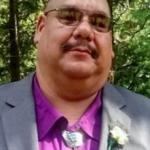 Mr. Darryl M. John, 55, of Salamanca, NY died Thursday afternoon, December 17, 2020 at Buffalo General Hospital following a short illness.
Born March 14, 1965 in Minden, LA, he was the son of the late Milburn "Lum" and Irene Redeye John. He was married on August 18, 1990 to the former Penny Weir, who survives.
He was an enrolled member of the Seneca Nation of Indians and the Hawk Clan. He served as an SNI Councilor for four years.
Darryl was a graduate of Salamanca High School, Class of 1983 and attended college in Kansas.
He had been employed as project manager with GTS Enterprise for two years, and had previously worked in the Seneca Nation of Indians Transportation Department. He had also worked for the USDA Forest Service in Warren, PA for over 25 years.
He enjoyed spending time with his family, especially his grandchildren. He enjoyed the outdoors, hunting and fishing, and lacrosse, which he coached for many years as his son Dakota played.
Surviving besides his wife are: two daughters, Caitlin John, Chanel (Jarol) Sanasith; a son, Dakota (Katie Rogers) John, all of Salamanca, NY; four granddaughters, Ivy Anderson, Aliah John, Cali Sanasith, Keira Bova; three grandsons, Coby Sanasith, Camden John, Collin Bova; three sisters, Stephanie John, Salamanca, NY, Carrie (James) John-Leary, Villa Park IL, Christina John, Carrolton, NY; several nieces and nephews.
He was predeceased by a sister, Sharon John.
Friends may call at the O'Rourke & O'Rourke Inc Funeral Home, 25 River Street, Salamanca, NY on Sunday, December 20th and Monday, December 21st from 1 – 3 and 5 – 7 p.m.
Funeral services will be held in the funeral home on Tuesday at 11 a.m. with Members of the Coldspring Longhouse, officiating.
E-condolences can be sent to orourke.orourkefh@gmail.com or posted to facebook.com/onofh.