David J. Klusek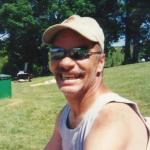 David J. Klusek, 57, of East State Street, Salamanca, NY, died Thursday morning, September 16, 2021 at Roswell Park Comprehensive Cancer Center, Buffalo, NY following a short illness.
Born April 16, 1964 in Rochester, NY, he was the son of the late Edward and Jean Ward Klusek. He is survived by his long-term companion of over 20 years, Jennifer Wnuk.
He attended Fairport High School, Fairport, NY and earned his Associates Degree from Mohawk Valley Community College.
David had been employed as an assembler with Fenton Mobility, Randolph, NY for the last two years.
He enjoyed spending time with his family, helping his kids with their vehicle maintenance, and attending and watching NASCAR as a Dale Earnhardt Sr. fan.
Surviving besides his companion are: four daughters, Deanna (Nick) Klusek, Salamanca, NY, Amber (Brett Ball) Klusek, Olean, NY, Baylee (Dylan Jimerson) Klusek, Hannah Klusek, both of Salamanca, NY; two sons, Eli (Rain Armstrong) Klusek, Connor Klusek, both of Salamanca, NY; a sister, Theresa Klusek, Rochester, NY; a grandson, Kairo Jimerson, Salamanca, NY; several nieces and nephews.
He was predeceased by his wife, Denise Lorkowski Klusek in 2001, two brothers, Steven Klusek and Kevin Klusek.
There will be no visitation.
A Celebration of Life will be held at the convenience of the family and will be announced.
Funeral arrangements are under the direction of the O'Rourke & O'Rourke Inc. Funeral Home, 25 River Street, Salamanca, NY.
E-condolences can be sent to orourke.orourkefh@gmail.com or posted to facebook.com/onofh