David W. Hamacher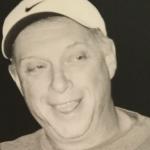 Dave "Ham" Hamacher, beloved husband, father, grandfather, uncle and sports enthusiast.
Mr. David W. Hamacher "Ham" 66, of Salamanca, NY died Friday morning, May 24, 2019 at his home following a short illness.
Born February 14, 1953 in Salamanca, NY, Dave was the son of the late William and Margaret Whitcomb Hamacher. He was married on October 16, 1976 at the United Church of Christ to the former Julie Pond, who survives.
He was a graduate of Salamanca Central School, Class of 1972. He attended Jamestown Community Collage, and St. Bonaventure University. He received an Associate's of Science Degree from JCC, Class of 1975.
Mr. Hamacher had been employed with the New York State Department of Transportation, Salamanca, NY, for over 23 years, retiring in 2015.
Ham loved spending his time with his wife, daughters, grandson, and many extended family members and friends. He was active for many years, playing sports throughout the area (Baseball, Softball, and Basketball). After retiring from playing, he coached. "Ham" brought back the SYA Girls' Basketball League Program and coached AAU Basketball. He also started the Salamanca Warriors Girls' Basketball Booster Club. Ham coached SYA Girls' Softball. He was selected "super fan" from the Salamanca Warriors Football Booster Club. Ham took second place in the Superstar competition in 1975.
There wasn't a place that big "Ham" went that he didn't run into someone he had played ball with or against. Always a conversation about the good old days of playing, coaching, or watching a game. One of his proudest moments is when he was playing high school baseball against Albion and hit the ball out of the park, and it landed on a nearby roof "390ft" to advance to Section 6 Class BBB championship finals.
Ham's love of sports continued watching his daughters continuing in his footsteps. He loved watching his girls play sports as well as watching his grandson. He was an avid Bills, Yankees, and Laker's fan.
Surviving besides his wife are: two daughters, Wendy Hamacher, Little Valley, NY, Kristy (Greg) Sassone, Olean, NY; a grandson, Scott Skroback, Little Valley, NY; a brother, James (Nancy) Hamacher, Great Valley, NY; a sister-in-law Anita (Randall) Wilkinson, Ocala, FL; a brother-in-law, Jeffrey (Beverly) Pond, Salamanca, NY; a sister-in-law, Barbara Pond, Salamanca, NY; an aunt, Mary Whitcomb Pietrylo, Great Valley, NY; several nieces and nephews.
He was predeceased by two brother-in-laws, Michael Ambuske, Leroy Pond Jr., three sister-in-laws, Donna Creeley, Carol Winkleman, and Michelle Ambuske.
There will be no visitation.
A Celebration of Life will be held at the American Legion, Salamanca, NY on August 3, 2019 at 1:00pm.
Burial will be in Calvary Cemetery, Salamanca, NY.
Funeral arrangements are under the direction of the O'Rourke & O'Rourke Inc. Funeral Home, 25 River Street, Salamanca, NY.
E-condolences can be sent to orourke.orourkefh@gmail.com or posted to facebook.com/onofh.