Delcine E. White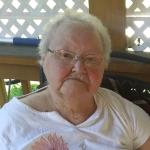 Delcine E. White, 86, of Salamanca, NY died Tuesday morning, January 11, 2022 at home.
Born November 29, 1935 in Cattaraugus, NY, she was the daughter of the late Earl and Florence Westfall Stockwell. She was married April 2, 1955 in the Lutheran Church in Otto, NY to Francis "Clyde" White, who predeceased her in 1998.
She attended school in Cattaraugus.
She had been employed in the food service department at the former Salamanca District Hospital for 34 years prior to her retirement.
Delcine enjoyed spending time with her family and friends, especially her grandchildren. She enjoyed playing Bingo and going to the casino, and going out to dinner. She liked swimming in her pool, spending time at the lake, skiing, and fishing. She was an avid Buffalo Sabres fan and an avid hunter.
Surviving are: a daughter, Vita White, Salamanca, NY; a son, Bob White, Salamanca, NY; four grandchildren, Dakota Lamberson, Salamanca, NY, Autumn White, Randolph, NY, Molly White, FL, Melony White, FL; five great-grandchildren, Katie Hogson, Ethan Hogson, Chris Hogson, all of FL, Mariah John, Jeremiah John, both of Steamburg, NY; son-in-law, Keith Lamberson, Salamanca, NY; sister-in-law, Pat Stockwell; brother-in-law Bill George; several nieces, nephews, and cousins.
She was predeceased by a son, Francis "Skip" White Jr., a daughter, Roxanne White, a granddaughter, Angel White, two sisters, Lucille George, Lenora Richard, and two brothers, Francis Stockwell and Jim Stockwell.
There will be no visitation.
A graveside service will be held at Crawford Cemetery, Salamanca, NY on Saturday, June 25, 2022 at 12pm.
Funeral arrangements are under the direction of the O'Rourke & O'Rourke Inc Funeral Home, 25 River Street, Salamanca, NY.
E-condolences can be sent to orourke.orourkefh@gmail.com.