Dennis Jimerson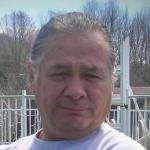 Dennis Jimerson,70, of Old Route 17, Jimersontown, NY died Monday, October 23, 2023 at Olean General Hospital following a short illness.
Born July 30, 1953 in Salamanca, NY, he was the son of the late Spencer Sr. and Doris Watt Jimerson, and Mildred Drugg Jimerson. He was married on August 14, 2010 to the former Gillorma Locicero, who survives.
He was a graduate of Salamanca High School, Class of 1973 and served in the United States Army from 1973- 1980, stationed in Guam, Germany, Hawaii, and Texas. After being discharged from the Army, Dennis had been employed as a lineman with the former B&O Railroad, Salamanca, NY, and was a manager at the Seneca Nation One Stop.
He enjoyed spending time with his family, especially his great-grandchildren. He was a sports enthusiast and attended all of his grandkid's sporting events. He was an avid Buffalo Bills fan and enjoyed the outdoors, golfing, fishing, and boating. He took great pride in mowing his lawn.
Surviving besides his wife are: a daughter, Teneille (Howard) Andrews, Randolph, NY; two sons, Ples (R. Michelle) Breazeale, Portville, NY, Robert (Billie) Breazeale, Salamanca, NY; nine grandchildren; nine great-grandchildren; four sisters, Jacquelyne (Tom) Decker, Valerie White, both of Salamanca, NY, Denise (Art) Hill, Gowanda, NY, Lynne Cowher, Salamanca, NY; four brothers, Robert Jimerson, Salamanca, NY, Spencer (Kathy) Jimerson, Steve (Natalie) Jimerson, all of Salamanca, NY, Lonnie (Kathy) Johnson, FL; cousin/brother, Ray (Janet) Hill, Salamanca, NY; several nieces, nephews, and cousins.
He was predeceased by a daughter, Dennie D. Jimerson, two sisters, Patricia Osborne, Margo Jimerson, and five brothers, Bruce Jimerson, Charles Jimerson, Thomas Fisher, Martin Jimerson, and infant Stephen Jimerson.
Friends may call at the O'Rourke & O'Rourke Inc Funeral Home, 25 River Street, Salamanca, NY on Thursday, October 26, 2023 from 3 – 4 and 7 – 9pm.
Funeral services will be held in the funeral home on Friday at 10am with Rev. Marvin Abrams officiating.
Burial will be in Memorial Heights Cemetery, Jimersontown, NY.
Full military honors will be conducted by members of the American Legion Hughes-Skiba Post 535 and the Veterans of Foreign Wars John F. Ahrens Post 5296.
E-condolences can be sent to orourke.orourkefh@gmail.com or posted to facebook.com/onofh.