Diane M. Hawkins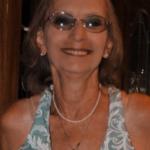 Mrs. Diane M. "George" Hawkins, 66, of Salamanca, NY died Friday evening, January 14, 2022 at The Pines Health & Rehab, Olean, NY following a short illness.
Born October 28, 1955 in Salamanca, NY, she was the daughter of the late Nathan and Marian L. Frank. She was married on April 10, 1982 in Salamanca, NY to Brian W. Hawkins, who survives.
She attended Salamanca and Jamestown High Schools and received her Medical Secretarial Certification from Olean Business Institute, Olean, NY.
Diane enjoyed quality time with her family, especially spending time outdoors with her grand and great-grandchildren. She also enjoyed the outdoors, gardening, crocheting, sewing, and canning. She loved going on car rides and attending the Frank Family Reunions at Allegany State Park. She will be remembered for her love of animals, especially her dog, Sadie, and her cat, Gibbs. She was a former member of the House of Prayer, Salamanca, NY.
Surviving besides her husband are: twin daughters, Jennifer (Justin) Bishop, Jamee (Dutch Steckman) Hawkins, both of Salamanca, NY; a son, Jonathan (Lacie) Hawkins, Great Valley, NY; a sister, Bonnie (John) Wilcox, Falconer, NY; three brothers, John (Janet) Frank, Tallahassee, FL, Michael Frank, Salamanca, NY, Jeffrey (Olivia) Kibbie, Mt. Vernon, NH. seven granddaughters, Korinne Skinner, Lockport, NY, Kaitlynne Darts, Allysen Steckman, Kirstin Steckman, all of Salamanca, NY, Payton Skinner, Franklinville, NY, Madeline Hawkins, Great Valley, NY, Christina Hawkins, Erie, PA; four grandsons, Nathaniel Skinner, Brayden Skinner, both of Salamanca, NY, Jonathan J. Hawkins, Edinboro, PA, Dutch Steckman, Salamanca, NY; ten great-grandchildren; sister and brother-in-law, Brenda (Ed) Reiller; an aunt; two uncles.
She was predeceased by a sister, Sharon Tveter.
There will be no visitation.
A memorial service will be held Saturday, January 22, 2022 at the Great Valley Fireman's Club, 6035 Depot Street, Great Valley, at 2 p.m. with Rev. Alan Yates, of the House of Prayer, officiating.
Funeral arrangements are under the direction of the O'Rourke & O'Rourke Inc Funeral Home, 25 River Street, Salamanca, NY.
E-condolences can be sent to orourke.orourkefh@gmail.com.