Dorothy A. Imhoff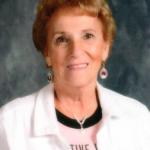 Dorothy "Ann" Imhoff, 73, of Bradford, PA, passed away at home surrounded by her loving family Thursday evening April 16, 2020 following a brief illness.
Born April 15, 1947 in Bradford, PA, she was the daughter of the late William "Dale" and Dorothy I. Harrison Jacoby. She was married April 15, 1967 to Leon "Edward" Imhoff, who predeceased her on April 12, 1993.
Ann was a graduate of Ellicottville High School, Class of 1965. She served as a role model to her family when she was a caregiver for her husband, mother, father, and sister. She worked for the Social Security Administration, Luminite, and BOCES as a teacher's aide until her retirement.
Ann loved spending time with her family and friends. She enjoyed bowling, camping, and line dancing.
Surviving are: three sons, Wayne (Crystal) Imhoff, Great Valley, NY, Ed (Norene) Imhoff, Ellicottville, NY, Larry Imhoff, Little Valley, NY; seven grandchildren, Ramsey Nelson, Kristen Imhoff, Shelby Imhoff, Sierra Wilber, Justin Imhoff, Erica Wilber, Chloe Imhoff; two sisters, Carol (Dennis) Daly, Cattaraugus, NY, Alice Brewer, Kill Buck, NY; a brother, William, (Chris) Jacoby, Great Valley, NY; several nieces and nephews; and a special friend, Vergilio Giardini and family.
She was predeceased by a sister, Judy Jacoby, and a nephew, Denny D. Daly.
Due to restrictions at this time, a memorial service will be planned at a later date to celebrate Ann's life.
Burial will be in Green Cemetery, Great Valley, NY.
Funeral arrangements are under the direction of the O'Rourke & O'Rourke Inc. Funeral Home, 25 River Street, Salamanca, NY.
In lieu of flowers, the family suggests memorials to Homecare & Hospice or the American Cancer Society.
E-condolences may be sent to orourke.orourkefh@gmail.com or posted to facebook.com/onofh.