Earl H. Mack Jr.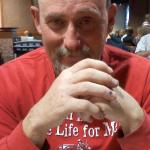 Earl H. Mack Jr., 59, of West Valley, NY died unexpectedly Tuesday afternoon, August 9, 2022 in Springville, NY.
Born November 11, 1962 in Springville, he was the son of the late Earl H. Sr. and Margaret Baker Mack.
Earl had been employed as a mechanic with Jim Murphy Auto in Springville for over five years and Fitzpatrick & Weller for over twenty-seven years. He had previously been employed with Southern Tier Forest Products, Salamanca, NY.
He enjoyed the outdoors, logging, cutting firewood, and cooking for his family. He will be remembered for his Christmas cookies and mashed potatoes. He was also an avid NASCAR fan who followed Kyle Bush.
Surviving are: his ex-wife Theresa Rebescher, Great Valley, NY; two daughters, Kristina (Joseph Kasperek) Kenyon, West Valley, NY, Krystal Mack, Fayetteville, GA; a son Kristopher (Jennifer Swingle) Mack, Ellicottville, NY; a granddaughter, Kathryn; four grandsons, Hunter, Jordan, Chase, Ashton; two sisters, Joanne (Andrew III) Wilson, Thornton, CO, Linda (Bryan) Terhune, West Valley, NY; two brothers Arthur Mack, Robert Mack, both of West Valley, NY; several nieces and nephews; his dog, McKenzie; two grand pups, Axel Earl, Stella Rae.
There will be no visitation.
A Celebration of Life will be held on the family land, located at 8028 Irish Hill Road, Ellicottville, NY on Saturday, August 13, 2022 at 2pm.
In lieu of flowers, the family suggests memorials be sent to Springville Volunteer Fire Company, P.O. Box 12, Springville, NY 14141.
Funeral arrangements are under the direction of the O'Rourke & O'Rourke Inc Funeral Home, 25 River Street, Salamanca, NY.
E-condolences can be sent to orourke.orourkefh@gmail.com.