Elisabeth F. Saradin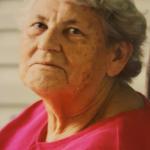 Mrs. Elisabeth F. Saradin, 94, of Salamanca, NY died Monday morning, May 23, 2022 surrounded by her family at Olean General Hospital.
Born February 12, 1928 in Atenbuch, Czechia, she was the daughter of the late Wensel and Maria Teichmann Schenk. She was married March 22, 1949 in Wipperfurth, Germany to Mr. Stefan "Steve" Saradin, who predeceased her on May 10, 2002.
Mrs. Saradin had been a self-employed housekeeper.
She was a member of the former St. Patrick's Church, Our Lady of Peace Parish, and the former St. Patrick's Mr. & Mrs. Club.
In early 1952, Elisabeth arrived in the United States from Germany with her husband, Stefan, and their three children. With only a suitcase in hand, they eventually settled in Salamanca, NY in pursuit of the American dream. Although Elisabeth loved and missed her homeland, she was very proud to become a citizen of the United States in 1958. She did not regret leaving the Sudetenland. The Saradins had no friends or relatives in the US and their resources were limited, but through hard work and their love of God and family, they succeeded. They raised five children under challenging circumstances – a story for the ages.
Elisabeth's loves were her children, extended family, and her beloved home on the hill. She enjoyed knitting and participating in activities with the Kraut Mütters. The church was the cornerstone of her spirit. She enjoyed sitting on her porch and appreciating the natural beauty of her surroundings. Hummingbirds and cardinals were two of her favorites.
Elisabeth had a keen interest in people. She loved to hear where people came from and was interested in learning about their ethnicities. She had an ability to make every person feel as though they were the most important person in the world. Elisabeth was a great listener and was happiest when surrounded by her family.
Because she always believed in good times and good people, she did not want to speak of the hardships in her life. At the urging of her kids, she finally shared her life story with her family.
Survivors include: two sons, Werner (Diane) Saradin, New Port Richey, FL/Salamanca, NY, Fred (Mary Ann) Saradin, Salamanca, NY; three daughters, Marianne (David) Schaefer, Orchard Park, NY, Gabriela (Dennis) Painter, Jamestown, NY, Ann (Marc) Mannino, Sarasota, FL; seven grandchildren; fourteen great-grandchildren; two great-great-grandchildren; two brothers, Josef (Rita) Schenk, Schwerin, Germany, Hubert Schenk, Neubrandenburg, Germany; several nieces and nephews.
In addition to her husband, she was predeceased by a brother, Werner (Ingride) Schenk of Schwerin, Germany, a sister, Maria (Herbert) Wihan of Rostock, Germany, a granddaughter, Rebecca Painter, and great-grandchildren, Kyle Oliveira and London McKinney.
Elisabeth leaves behind a lasting legacy of love, trust and hope.
Friends may call at the O'Rourke & O'Rourke Inc Funeral Home, 25 River Street, Salamanca, NY on Friday, May 27, 2022 from 2 – 4 and 7 – 9 p.m.
A Mass of Christian Burial will be held in Our Lady of Peace Parish, 274 Broad Street, Salamanca, NY on Saturday at 10:30a.m. with Rev. Patrick Melfi as celebrant.
Burial will be in Calvary Cemetery, Salamanca, NY.
In lieu of flowers, the family suggests memorials be sent to the Our Lady of Peace Memorial Fund or the Benedictine Mission House, 123 RDI, Schuyler, NE 68661.
E-condolences can be sent to orourke.orourkefh@gmail.com.