Emery Lafferty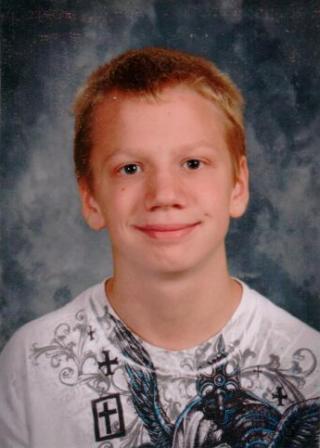 Emery Lafferty, age 12 , of Dansville, New York, died Thursday, April 10, 2014 as a result of an auto/pedestrian accident near his home.
Born January 10, 2002 in Olean, NY, he was the son of Brett and Bobbie Wahl Lafferty.
Emery was a student at EBH Elementary School in Dansville, NY and had attended Ellicottville Central School, Ellicottville, NY .
He was a member of the Ellicottville Wrestling Club, and played in Ellicottville Youth Football, Basketball and Baseball program. He enjoyed playing and watching football and was an avid Seattle Seahawk fan. He enjoyed the outdoors, fishing, camping and swimming and loved riding Grandpa's lawnmower.
Surviving besides his parents are: one sister, Jallyssa Lafferty, Dansville, NY; maternal great-grandmother, Florence Howard, Salamanca, NY; maternal grandparents, Judith Atwater, Salamanca, NY, & Richard (Kathleen) Wahl, Kenosha, WI; paternal great-grandmother, Janet Baker, Salamanca, NY; paternal grandparents, Earl and Julie Lafferty, Great Valley, NY; a maternal aunts, Jessica (Travis) Caswell, Salamanca, NY and Elizabeth Stanley, Kenosha, WI; maternal uncle, Richard (Louella) Wahl, Kenosha, WI; paternal uncle, Troy (Kelly) Lafferty, Salamanca, NY and several cousins, great aunts, uncles and friends.
He was predeceased by maternal grandparents, Richard and Frances Wahl and paternal grandparents, Hubert and Barbara Newark and one aunt, Jennifer Manning.
Friends may call at the O'Rourke & O'Rourke Inc. Funeral Home, 25 River Street, Salamanca, New York on Tuesday from 2-4 pm & 7-9 pm. Funeral Services will be held in the funeral home on Wednesday at 11:00 am with Father Patrick Melfi, of Our Lady of Peace Church officiating and followed by committal services in Crawford Cemetery.
Funeral arrangements are under the direction of the O'Rourke & O'Rourke Inc. Funeral Home, 25 River Street, Salamanca, NY
E-condolences may be sent to john@orourke-orourke.com or posted to facebook.com/onofh.