Ezra R. Redeye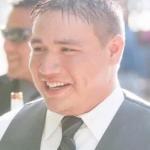 Ezra Ray Redeye, 32, of Center Road, Jimersontown died unexpectedly Friday afternoon, August 9, 2019 at home.
Born May 14, 1987 in Jamestown, NY, he was the son of Theresa Printup and Earl Redeye Jr., both of Jimersontown.
He was an enrolled member of the Seneca Nation of Indians and the Wolf Clan, and was a member of the Coldspring Longhouse.
Ezra was a graduate of Salamanca High School, Class of 2005 and attended both Onondaga Community College, Syracuse and Alfred State College, Alfred, NY.
He had been employed with the Seneca Nation Department of Public Works for over a year. Previously, he had been an Iron Worker apprentice with the Local 6 in Buffalo.
He enjoyed playing football and lacrosse, and was on the Champion 2005 SHS Lacrosse team. He loved motorcycles and four wheelers, and had raced competitively when he was younger. He also enjoyed reading.
Surviving besides his parents are: maternal grandparents, Martin Crouse and Joyce Huff, Jimersontown, NY; paternal grandmother, Kathryn (the late Earl Sr.) Redeye, Jimersontown; nine aunts, Renda Huff, Salamanca, NY, Gilbetine Halftown, Steamburg, NY, Victoria Mercado, Veronica Stevens, Crystal Mitchell, all of Gowanda, NY, Jaunita Williams, Chicago, IL, Valerie (Joel) Bennett, Gowanda, NY, Sally (Donald) John, Jimersontown, NY, Leslie Ann (Marc) John, Steamburg, NY; four uncles, Charles Redeye Sr., John Redeye Sr., both of Jimersontown, NY, Greg (Melissa Oldshield) Miller, William (Tammy) Canella, both of Salamanca, NY; several cousins.
He was predeceased by three aunts, Marilyn Maglott, Vanessa Halftown, and Barry Halftown.
Friends may call at the family home, 3753 Center Road, Jimersontown beginning Monday afternoon and continuing all day Tuesday.
Funeral services will be held at the family home on Wednesday at 10 a.m. with members of the Coldspring Longhouse officiating.
Burial will be in Memorial Heights Cemetery, Jimersontown, NY.
Funeral arrangements are under the direction of the O'Rourke & O'Rourke Inc Funeral Home, 25 River Street, Salamanca, NY.
E-condolences can be sent to orourke.orourkefh@gmail.com or posted to facebook.com/onofh.