Francine Twoguns-Jimerson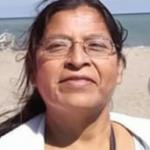 Francine Twoguns-Jimerson, 57, of Salamanca, NY died early Friday morning, January 17, 2020 at Olean General Hospital.
Born February 1, 1962, she was the daughter of the late Roland and Harriet Lascelles Jimerson. She was married in August 1981 on the Cattaraugus Reservation to Carmen Twoguns, who predeceased her on February 13, 2019.
She was an enrolled member of the Seneca Nation of Indians, Beaver Clan.
Francine had been employed in the hospitality industry working at the Holiday Hills Resort and Golf Course, and Fall Creek Steakhouse, both in Branson, MO. Upon her retirement, she became a fulltime grandmother, taking care of several children.
She enjoyed traveling, meeting new people, and will be remembered for her sense of humor and jokes.
Surviving are: a daughter, Staci Rose (Jayson) Twoguns-Armstrong, Salamanca, NY; a son Carmen Twoguns Jr, Salamanca, NY; two granddaughters, Aisha Arlene Armstrong, Salamanca, NY, Sharee Ann Armstrong, Salamanca, NY; a grandson, Devin Armstrong, FL; three sisters, Roxanne Johnson, SC, Gwen Jimerson, Cattaraugus Territory, Wanda (Vaughn) Gates, Salamanca, NY; three brothers, Orville (Tina) Jimerson, Harland (Becky Maybee) Jimerson, Joseph Jimerson, all of the Cattaraugus Territory; several nieces and nephews.
She was predeceased by a sister, Tauni Jimerson, and three brothers, Arlyn Jimerson, Darren Jimerson, and Roland Jimerson Jr.
Friends may call at the family home, 821 Front Avenue, Salamanca, NY beginning Sunday at 6 p.m. and continuing all day Monday.
Funeral services will be held in the family home on Tuesday at 12 p.m.
Funeral arrangements are under the direction of the O'Rourke & O'Rourke Inc Funeral Home, 25 River Street, Salamanca, NY.
E-condolences can be sent to orourke.orourkefh@gmail.com or posted to facebook.com/onofh.