Fred W. McLeod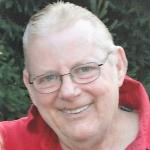 Fred W. McLeod, 74, of Salamanca, NY passed quietly at home December 14, 2018. Born June 8, 1944 to Frederick McLeod and Helen Duerr McLeod of Buffalo, NY, Fred was the middle child of three. He married his high school sweetheart Barbara J. Russell and raised three daughters. He followed in his father's footsteps as a sheet metal worker working for Sheet Metal Workers' Union Local 71 out of Buffalo. He was proud to have worked on the then tallest building in Buffalo, the Marine Midland Center skyscraper. An adventurous spirit took he and his wife to California on an epic cross-country motorcycle trip. Fred became the caretaker of the Hearst Estate in Sacramento, California and his children followed later that summer. Fred, or (Bacon/ Bac) to his family, moved to Salamanca in the late 1970's and was an outdoorsman throughout his life. Allegany State Park was central to many family memories over the years, annual cabin stays as children, cousins, nieces, nephews, siblings and parents. Trips to see bears at the old park dump, pavilion dances, races and tag, sneaker creaking, campfires stories and songs, skipping rocks, large family feasts, days at the beach, and whole family trips in the back of pick-up trucks going to play at Thunder Rocks. He embraced nature, viewed wildlife, hunted, fished, boated, bicycled and walked in the park he loved so well. Almost daily, when weather allowed, he fished with his father. Fall was a time for hunting with his brother, John. Summer mornings a time to visit his sister, Helen (Tookie) and family in the park. He served as companion and caregiver for both his parents in their later years, a labor of love. Equally comfortable in solitude and in the company of his family and friends, he particularly enjoyed coffee with friends, visits with family, and swimming. He swam miles each week and participated in all things aquatic at the Olean YMCA for nearly twenty years valuing his friends there. He loved tennis matches, gadgets, and researching technological advancements. He was an engaging storyteller and could be transported through his love of reading. We cherish our memories of his straight forward ways, his playful spirit and sense of humor, and the ever present boisterous contagious laughter that filled the air around him. He was the most marvelous combination of a modest, loving, no nonsense family man that loved to dance and could light a room with his smile. He was a caring helpful friend to many. Beloved Father, Brother, Uncle, and Grandfather. We shall forever miss him. In life and now in death, he wouldn't want us to focus on him. He would want us to focus instead on the happiness in our lives. He would want us to appreciate each other and look toward the future.
Surviving are: three daughters, Cory (Wolfgang) Smith, Carmichael, CA, Barbara (Jerry) Baumgart, Pollock Pines, CA, Kathrine McLeod, Anacortes, WA; four grandchildren; a sister, Helen (David) Shaffer, Hamburg, NY; a brother, John (Chris) McLeod, North Java, NY; several nieces and nephews.
A Celebration of Life will be held in the future at the convenience of the family. There will be no visitation. Funeral arrangements with O'Rourke & O'Rourke Inc Funeral Home, 25 River Street, Salamanca, NY. Burial will in Wildwood Cemetery. E-condolences can be sent to orourke.orourkefh@gmail.com or posted to facebook.com/onofh. Please share a memory.