Gary "Coop" Krantz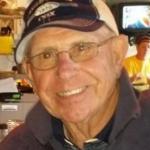 Mr. Gary "Coop" Krantz, 89, of Salamanca, NY died Tuesday evening, October 12, 2021 at Olean General Hospital.
Born May 6, 1932 in Salamanca, NY, he was the son of the late Leon and Mabel Clemmons Krantz. He was married on June 21, 1958 in the former First Methodist Church, Salamanca, to the former Marjorie "Marge" Mosher, who predeceased him on February 4, 2021.
Coop served in the United States Army from 1952-1954 during the Korean War. While stationed out of state and abroad, he wrote Marge many love letters that she kept to this day. When Coop got out of the service he married the love of his life, Marge. They bought their first property on Newton Street in Salamanca in 1958, which they returned to after 47 years, completing their 62+ years of love and marriage. Coop also renewed his wedding vows to Marge in Provincetown Cape Cod (where they honeymooned) in 2008 in front of friends and family after 50 years of marriage.
Coop began working on the B&O/Chessie System Railroad. He ended his 35-year railroad career as a yardmaster when the railroad was under the CSX Corporation. Coop also had brief careers with Bush Industry and he was a part time Gym Teacher at St. Pat's School in the early 70's, inventing the game of Soc-A Hoc (Soccer/Hockey) with the students that he taught. After Coop retired, he and his wife Marge bought and operated Beigel's Bar and made it into the place to be in town on a Friday night. Coop sold Beigel's in the early 90's to become part of the snowbird club and enjoyed the winter months in Florida every year.
In high school, Coop was an avid athlete excelling in both football and baseball. He made a name for himself in the WNY fast pitch softball leagues from the late 1950's through the 1980's. His position was shortstop and it was rumored that he was one of the best around.
Coop enjoyed camping at Allegany State Park with his family when his children were young, beginning in the early 60's. This tradition lasted for 30+ years, when he and Marge moved their yearly camping trips to Onoville Marina campgrounds with close friends, where he loved boating as well. Coop loved to travel after his children were grown and he and his wife went to several destinations both nationwide and abroad, but his favorite place to go was Las Vegas. Coop loved to gamble and when not in Vegas, you could find him down at the local Seneca casino, probably winning. Coop also loved to golf and was a member of Elkdale Country Club for many years. You could also find Coop at his favorite local hangouts, the American Legion and the Ole Hickory. He really loved to spend time with his three great-grandsons and was lovingly known as "Grumpy Bear" by the older two and the youngest simply called him Coop.
Surviving are: a daughter, Lori (Terry) Koniak, Salamanca, NY; a granddaughter, Leigh Ann (Dan) Bialaszewski, Salamanca, NY; a grandson, Howard "HR" Stark, Punta Gorda, FL; three great-grandsons, Wyatt, Brycen, and Emmett Bialaszewski, all of Salamanca; a sister, Marcia (William) Shinners, Toledo, OH; close friends, Kendall Miller and Howard Stark; and several nieces and nephews.
He was predeceased by his infant son, Jay Tucker Krantz, his daughter Lindi Krantz, two sisters, Noel Krantz and Mary Jane "Dude" Whitefield, and four brothers, Robert Krantz, Bill Krantz, Donn Krantz, and Jim Krantz.
There will be no visitation.
A graveside service will be held in Wildwood Cemetery on Saturday, October 23, 2021 at 1 p.m.
Full military honors will be conducted by members of the American Legion Hughes-Skiba Post 535 and the Veterans of Foreign Wars John F. Ahrens Post 5296.
Funeral arrangements are under the direction of the O'Rourke & O'Rourke Inc. Funeral Home, 25 River Street, Salamanca, NY
E-condolences can be sent to orourke.orourkefh@gmail.com.