Gary M. Wilson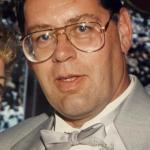 Gary M. Wilson, 78, of Great Valley, NY, died suddenly on Wednesday, June 8, 2022 at home.
Born January 5, 1944 in Salamanca, NY he was the son of the late Jess and Florence McCarthy Wilson. He was married on July 1, 1983 to the former Sharon Waite who predeceased him on January 8, 2013.
Mr. Wilson was employed by the New York State Department of Transportation for over 20 years, retiring in 2009. Previously, he had been a local long distance truck driver for over 15 years. After his retirement, he worked part time at Haley's Auto Body.
He was a member of the former United Congregational Methodist Church, now Riverside Chapel, a social member of the American Legion Hughes-Skiba Post #535, the Enchanted Mountain Riders through the Legion, the Horseshoe League at the Ellicottville American Legion, and was an avid golfer and bowler. He also coached West End Warriors Football and was the past President of the Salamanca Sports Booster Club. Mr. Wilson also served as Ward 1 Alderman.
Surviving are: his fiancé, Mary Reger, Great Valley, NY; two sons, Stephan (Gail) Wilson, Cheyenne, WY, Kevin Wilson, Lake Charles, LA; a daughter, Susan Wilson, Salamanca, NY; son-in-law, Ernie Robinson, Bolivar, NY; four stepsons, Daniel (Kris) McCord, Veronia, OR, Steve (Mary) McCord, Salamanca, NY, Jay (Glenda Hartson) McCord, Steamburg, NY, Paul McCord, Bradford, PA; a stepdaughter, Cindy (Joe Baker) McCord, Ft. Worth, TX; fourteen grandchildren; five great-granddaughters and eight great-grandsons; two brothers, Myron (Carolyn) Wilson, Ray (Sharon) Wilson, both of Salamanca, NY; two sisters, Vicki (Steve) LeRoy, Cindy (Kevin) Wilson, both of Salamanca, NY; several nieces and nephews.
He was predeceased by a daughter Gail Robinson, sister Emily Anderson.
Friends may call at the O'Rourke & O'Rourke Inc. Funeral Home, 25 River Street, Salamanca, NY on Tuesday June 14, 2022 from 2 – 4 and 7 – 9pm.
Funeral services will be held in Riverside Chapel, 134 Broad Street, Salamanca, NY on Wednesday at 11am with Pastor Ben Good officiating.
Burial will be in Crawford Cemetery, Salamanca, NY.
E-condolences can be sent to orourke.orourkefh@gmail.com.