Geraldine K. Courteau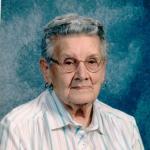 Geraldine K. Biscup Pierce Courteau, 98, of Salamanca, NY passed away Sunday, January 16, 2022 at Olean General Hospital following a prolonged illness.
Born April 30, 1923 in Salamanca, NY, she was the daughter of the late Raymond and Annie Zolenski Biscup. She was married February 21, 1964 in Salamanca to Joseph L. Courteau, who predeceased her in 1999. Previously, she had been married to Orland W. Pierce, who predeceased her.
She had been employed as a custodial engineer with the Salamanca City Central School District for over 25 years and had previously worked at the former Fancher Furniture Company.
She was a life member of the Veterans of Foreign Wars John F. Ahrens Post 5296.
Surviving are: a son, Lawrence O. (Nancy A.) Pierce, Salamanca, NY; a daughter, Carol L. Pierce Wiltsie, Salamanca, NY; three grandchildren, Carie L. Pierce Letson, Salamanca, NY, Steven P. Pierce, Houston, TX, Danielle A. Wiltsie, Olean, NY; seven great-grandchildren, Jacob D. Letson, Georgia E. Letson, both of Salamanca, NY, Logan E. Pierce, Reagan V. Pierce, both of Houston, TX, Haley M. Armstrong, Salamanca, NY, Jessie R. Armstrong Jr., Ayden L. Armstrong, both of Olean, NY.
She was predeceased by two great-great-grandchildren, Roman D. A. Delity, Oakleigh F. G. Delity, three sisters, Dorothy Rorick, Marie Vail, Alice Frank, a brother, Leonard Biscup and son-in-law, David L. Wiltsie.
There will be no visitation.
Funeral arrangements are under the direction of the O'Rourke & O'Rourke Inc Funeral Home, 25 River Street, Salamanca, NY.
In lieu of flowers, the family suggests memorials to St. Jude's Hospital, 760 Ellicott Street, Buffalo, NY 14203 or Oshei Children's Hospital, 818 Ellicott Street, Buffalo, NY 14203.
E-condolences can be sent to orourke.orourkefh@gmail.com.