Gloria J. Johnson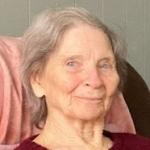 Mrs. Gloria J. Johnson, 88, of Salamanca, NY, died Tuesday, August 15, 2023 at home following a long illness.
Born on February 5, 1935 in Garretts Bend, WV, she was the daughter of the late Roy and Mary McCallister Bowles. She moved with her family to Salamanca as a teenager. She was married on June 18, 1955 to Mr. Terence Johnson who predeceased her in November of 2020.
She was a member of Riverside Chapel and the former Kissinger United Methodist Church. Gloria loved her church and was a lifelong member with many friends she cherished. She loved bowling, reading, doing crossword puzzles, and shopping sprees with her daughters. She enjoyed working in her flower gardens and sitting on her porch watching the birds, deer, and bunnies that came every day. Most of all she loved family and having many get-togethers where everyone was welcome. She spent many hours cooking and baking, which brought her much joy. Gloria was a very generous person, always giving of herself.
Surviving are: four daughters, Darlene Vesotski, Salamanca, NY, Deborah (Dan) O'Neil, Randolph, NY, Shella (Dale) Blood, Napoli, NY, Laurie Blood, Salamanca, NY; a son, Eric Johnson, Salamanca, NY; nine grandchildren; eight great-grandchildren; two sisters, Ramona (Carlson) Eden, Detroit, MI, Edna (Roy Alcorn) Pettit, Forestville, NY; sister-in-law, Carolyn (Robert) Terhune; several nieces and nephews.
She was predeceased by four brothers, Stewart, John, Carlos, and Claude Bowles; a sister, Geraldine (Ernie) Ravert; and a great-grandson, Caleb Winship.
There will be no visitation.
A memorial service will be held at Riverside Chapel, 134 Broad Street, Salamanca, NY on Thursday, August 24, 2023 at 11am with Pastor Ben Good officiating.
Funeral arrangements are under the direction of the O'Rourke & O'Rourke Inc Funeral Home, 25 River Street, Salamanca, NY.
Burial will be in Wildwood Cemetery, Salamanca, NY.
E-condolences can be sent to orourke.orourkefh@gmail.com or posted to facebook.com/onofh.