Gwendolyn G. Mighells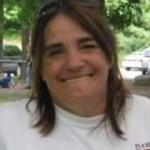 Gwendolyn G. Mighells, 59, of Limestone, NY died Saturday morning, August 14, 2021 following a long illness.
Born July 14, 1962 in Salamanca, NY, she was the daughter of the late Theodore and Freda Fluent Bish. She met the love of her life, Sandi Mighells in 2001.
She had been employed as a bartender at the former Bier Hut for over 20 years. She had also been employed at JB Norton's and most recently was a manager at the Seneca Allegany Casino.
She enjoyed spending time with friends and family and reading. She loved going camping and being with her fur babies.
Surviving besides her wife are: four daughters, Amber (Daniel) Lafferty, Salamanca, NY, Megan (Chris) Grunthaner, Lockport, NY, Kylan (Adam Stone) Walters, Salamanca, NY, Kristin Fuller, Kill Buck, NY; two sons, Micca Walters, Salamanca, NY, James Fuller, Kill Buck, NY; eleven grandchildren; five sisters, Pamela (Stuart) Bryant, FL, Theodora Bish, Forestville, NY, Aleta (Richard) Dulanski, Salamanca, NY, Terry (Richard) Crary, Syracuse, NY, Wendi (Thomas) Bish, Salamanca, NY; a brother-in-law, John Walton; several nieces and nephews including her favorite nephew, Thomas Manning.
She was predeceased by her brother, Thomas Bish, and three sisters, Faye Budinski, Penny Walton, and Christina Robinson.
There will be no visitation.
A memorial service will be held at the convenience of the family.
Funeral arrangements are under the direction of the O'Rourke & O'Rourke Inc. Funeral Home, 25 River Street, Salamanca, NY.
E-condolences can be sent to orourke.orourkefh@gmail.com or posted to facebook.com/onofh.