Helen C. Frank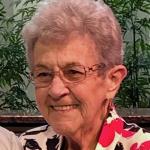 Helen C. Frank of Great Valley, NY, died at Olean General Hospital on Monday, December 23, 2019.
She was born in Salamanca, NY on July 12, 1932, to Katharine Moore Kerns and Dr. John I. Kerns. She lived in her family home on River Street for most of her life. She graduated from Salamanca High School in 1950 and on August 1, 1952, she married Kenneth Frank, the love of her life. He died in 2001.
Her two brothers, John Kerns and Daniel Kerns, also pre-deceased her and she became the matriarch for their families, as well. She was a member of the former St. Patrick's Parish, now Our Lady of Peace Parish.
When the youngest of their six children started school, Helen began working at the Salamanca Penny Saver. She then worked for St Patrick's Parish until her retirement. When they retired, she and Kenny traveled a great deal to visit family and friends. After Kenny died she lived with her daughter Cindy and son-in-law Rick in Great Valley, while enjoying winters in Satellite Beach, Florida. While there, she was an active member of the Moose Lodge 2376, keeping company with old friends and new. Helen's family lovingly referred to her as a 'bull-headed Irishman,' and she reveled in her opportunity to travel to Ireland. Once with her son, Dennis, and again with a group of family members – a life-long dream.
She is survived by daughters Cindy (Rick) Crandall of Great Valley, Pam Frank of Jamestown, Susan (Rod) Gex of Las Vegas, and sons Gregory (Ann) Frank of Pittsford, NY, Dennis (Teddy) Frank of Livermore, CO and Mark (Loreé) Frank of Farmington Hills, MI. She was blessed with fifteen grandchildren, John Crandall, Kate Althans, Jessica Carlascio, Bryan Frank, Megan Frank, David Frank, Justin Frank, Melissa Kelting, Matthew Gilbert, Shawntina Phillips, Dashawn McNairy, TJ McNairy, Aaron Frank, Sarah Gex and Adam Gex. She kept up with all their lives and never hesitated to make sure they knew what she thought. Helen was also delighted by her twenty Great Grand-children, Declan and Case Althans, Jacob and Lilly Carlascio, Amelia, Helena and Brennan Frank, Anastasia Marsocci, Rachel, Penelope, and Alex Kelting, Jordan McNairy, Deysha, Bishop and Keyara Williams, Elijah Bailey, Joshua and Chevelle McNairy, Shawntral and Caleb Turner. She was also beloved Aunt to many nieces and nephews.
Upon her request, there will be no visitation. A Mass of Christian Burial will be held on Saturday, January 18th at Our Lady of Peace Catholic Church on Broad St, in Salamanca, NY. at 11:00 AM.
Funeral arrangements are under the direction of the O'Rourke & O'Rourke Inc Funeral Home, 25 River Street, Salamanca, NY.
Memorials in her honor may be made to the Ellicottville/Great Valley Ambulance Service, Inc. P.O. Box 74, Ellicottville, NY 14731
E-condolences can be sent to orourke.orourkefh@gmail.com or posted to facebook.com/onofh.