Hildagarde Krause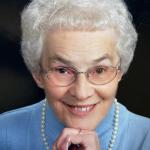 Mrs. Hildagarde "Hildie" Krause, 92, of Great Valley, NY died Friday, May 26, 2023 at Olean General Hospital following a short illness.
Born March 9, 1931 in Ellicottville, NY, she was the daughter of the late Charles and Lana Langhans Nannen. She was married on May 3, 1958 to Mr. Charles Krause, who predeceased her in 2017.
She was a graduate of Ellicottville Central School, Class of 1950.
Hildie had been employed at M. Murphy & Son as a bookkeeper until it closed, and then went to Signore's Inc., which was later sold to the AVM Corporation, where she was employed as a bookkeeper until her retirement in 1999. She also did the books for VA Krause Construction and was a Supervisor Clerk for the Town of Great Valley for approximately 40 years.
She was a member and former treasurer of St. Paul's Lutheran Church, Ellicottville, NY. She enjoyed baking, and will be remembered for her famous cookies. She loved spending time with her family, enjoyed the outdoors, growing flowers, putting on holiday dinners.
Surviving are: a sister, Charlene Nannen, Great Valley, NY; several nieces and nephews.
She was predeceased by a sister, Marilyn Hintz, and a brother, James Nannen.
Friends may call at the St. Paul's Lutheran Church, 6360 Route 242, Ellicottville, NY on Thursday, June 1, 2023 from 11am – 1pm, at which time funeral services will be held with Rev. Daniel Buringrud.
Funeral arrangements are under the direction of the O'Rourke & O'Rourke Inc Funeral Home, 25 River Street, Salamanca, NY.
Burial will be in Green Cemetery.
In lieu of flowers, the family suggests memorials be sent to St. Paul's Lutheran Church.
E-condolences can be sent to orourke.orourkefh@gmail.com or posted to facebook.com/onofh.