Irma L. Cooper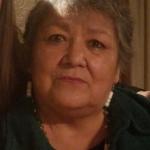 Irma L.Cooper, 75, of Salamanca, NY died Wednesday, February 22, 2023 at Millard Fillmore Hospital, Buffalo, NY following a long illness.
Born November 13, 1947, in Salamanca, NY, she was the daughter of the late Delbert and Mattie Crouse John. She was married on July 30, 1966 to Rodney Cooper, who predeceased her in 2002.
Irma was an enrolled member of the Seneca Nation of Indians and of the Bear Clan.
She was a graduate of Salamanca High School, Class of 1965. She also attended St. Bonaventure University.
Irma had been elected as a Peacemaker Judge with the Seneca Nation of Indians Peacemakers Court, Salamanca, NY for over eight years, retiring in 2014. She had previously been employed with the Allegany Elementary School for over ten years.
She loved her family and her dogs. She enjoyed the outdoors, campfires, and mowing her yard. She was an avid New York Yankees fan and also enjoyed NASCAR and dirt track auto racing.
Surviving are: a son, Arnie Cooper, Salamanca, NY; five grandchildren Megan, Molly, Emily, and Krista Cooper, all of Salamanca, NY, Kelsey Cooper, Franklinville, NY; two grandsons, Cole Cooper, Franklinville, Wyatt Cooper, Salamanca, NY; a sister, Brenda John, Salamanca, NY; several nieces, nephews, and great grandchildren.
She was predeceased by a son, Gregg Cooper, three brothers, Milburn John, Robert John Sr., and Marlet John.
Friends may call at the O'Rourke & O'Rourke Inc. Funeral Home, 25 River Street, Salamanca, NY on Sunday, February 26, 2023 from 2 – 4pm & 7 – 9pm.
Funeral services will be held on Monday in the funeral home at 11am with Pastor Marvin Abrams officiating.
Burial will be in Memorial Heights Cemetery, Jimersontown, NY.
E-condolences can be sent to orourke.orourkefh@gmail.com or posted to facebook.com/onofh.