Jacob A. Blakeslee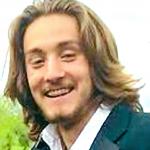 Jacob A. Blakesslee, 19 of Sullivan, Ohio died unexpectedly following a motor vehicle accident Wednesday, December 18, 2019. He was born November 16, 2000 in Tacoma, Washington to Adam D. and Maria (Moore) Blakesslee.
He was a 2019 graduate of Black River High School.
Jacob was a free and happy spirit with a zest for life who cared deeply for his family and friends and was loved by all who knew him. His kindness was felt by those he helped persevere through personal trials and he was always there for anyone who was in need. Everyone was welcome at Jacob's house. He loved music, skiing, hunting, football and most of all spending time with his friends. His smile was bright and his laugh was quick and contagious, making everyone he was with smile too.
Jacob is survived by his mother, Maria; Twin brother Garrett; Grandparents, Ronald and Julieta Moore and Peggy Locicero; Aunts and Uncles, Jessie (Patty) Blakesslee, Jenny (Chad) Herrick, Bonnie Moore, Patricia (Dan) Hellwig and Michelle Moore; And many cousins and friends
He was preceded in death by his father, grandfathers Fredrick Blakesslee and Richard Locicero.
Visitation will be Saturday, December 21 from 1:00 to 4:00 PM at Homerville Grace Brethren Church, 8992 Firestone Road, Homerville, OH 44235. A funeral service will follow at 4:00 PM. Pastor George Swain and Pastor Tim Simmons will officiate.
There will be a Celebration of Life at the Great Valley Fire Hall, 6035 Depot St, Great Valley, NY 14741, Saturday, December 28, 2019 from 4-8 pm.
Arrangements are handled by Parker Funeral Home in Spencer, OH and locally by the O'Rourke & O'Rourke Inc Funeral Home, Salamanca, NY.
Memorial contributions may be made to www.gofundme.com/f/support-for-jacob-blakesslees-family to assist the family with final expenses.
Online condolences may be shared at www.parkerfuneralhomes.com