James A. Payne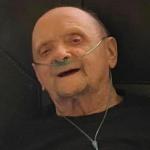 James A. Payne, 77, of New Albion, NY died Thursday evening, February 24, 2022 at home following a long illness.
Born March 24, 1944 in Franklinville, NY, he was the son of the late Lewis and Ruth Brines Payne. He was married on October 7, 1967 in Ellicottville, NY to the former Sandra Sheridan, who survives.
James was a veteran of the United States Army, stationed in Germany.
He had been employed as an equipment operator with Bush Industries in Little Valley for over five years, retiring in 2007. Previously, he had been employed with both Highland Plastics, Salamanca, NY and York & Merit, Ellicottville, NY.
He enjoyed spending time with his many grandchildren, great- grandchildren, and playing cards and dominoes with his family. He was a Buffalo Bills and Green Bay Packers fan and also enjoyed watching college football. He was a member of the Veterans of Foreign Wars Post 8734 and the Euchre Club of Little Valley.
Surviving besides his wife are: four daughters, Teresa Payne Harrington, Salamanca, NY, Kassie Payne Spittler, Mount Vernon, OH, Deanna "Dee" Teeft, Cattaraugus, NY, Tina (Timothy English) Payne, Little Valley, NY; 12 grandchildren; 20 great-grandchildren; a sister, Diane Ackerman, Hume, NY; a brother, Bob Payne, GA; several nieces and nephews.
He was predeceased by a son, James William Payne, and two brothers, Duane Payne and Lewis Payne.
There will be no visitation.
A Celebration of Life will be held on Thursday, March 24, 2022 from 12 - 6 p.m. at the Veterans of Foreign Wars Post 8734, 5460 Route 353, Little Valley, NY.
In lieu of flowers, the family suggests memorials to the American Cancer Society, P.O. Box 22478, Oklahoma City, OK 73123.
Funeral arrangements are under the direction of the O'Rourke & O'Rourke Inc Funeral Home, 25 River Street, Salamanca, NY.