Jamie J. Schine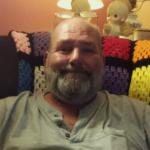 Jamie J. Schine, 61, of Killbuck, NY passed away unexpectedly at home on June 1, 2023.
Born September 14th, 1961 on Bentwaters AFB in England to the late Clyde R. and Jennie K. Siafakas Schine.
Jamie was previously employed by the WNY and PA Railroad, Rochester, NY. Prior to working for the railroad, he ran the Pyramid Drive-In for several years. Jamie was well known for unique pizzas, Mexican food and his love to feed people.
Jamie loved dogs, he especially loved his St. Bernards and his latest dog, Spike. Anyone that knew Jamie knew his passion was cooking.
Surviving besides his wife of fifteen years, Kathy are: a step daughter, LeeAnne Jessica (Scott) Merkwa, Blasdell, NY; a stepson, Ian (Alyssa) DeMarco, Thomasville, PA; two sisters, Debra Anderson, Kim Harrison, both of Killbuck, NY. He was well loved by several nieces, nephews, and grandchildren.
He was predeceased by his brother-in-law, Ronald L. Anderson and his nephew Ronald "Ronnie" Anderson, Jr.
There will be no visitation.
Burial will be at the convenience of the family.
Funeral arrangements are under the direction of the O'Rourke & O'Rourke Inc Funeral Home, 25 River Street, Salamanca, NY.
E-condolences can be sent to orourke.orourkefh@gmail.com or posted to facebook.com/onofh.