Jean Barrett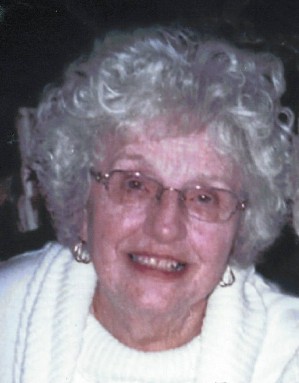 Jean L. Barrett, age 81, of Fillmore Avenue, Salamanca, New York died Saturday evening, July 2, 2011 surrounded by her family.
Born on February 11, 1930 in Ellicottville, New York she was the daughter of the late John and Augusta Kaufmann Rider. She was married on May 29, 1948 to Mr. Perry Barrett who predeceased her on August 5, 1982.
Mrs. Barrett was a self employed seamstress.
She was a member of Our Lady of Peace Parish and she chaired the Women's Division of Catholic Charities for the Buffalo Diocesan from 1968-1978, volunteered at the former St. Patrick's Church counting the collection money from 1970-1982, a former member of the Parish Council at St. Patricks, She was the head of Volunteer Recruitment for the Red Cross, where she was a certified disaster relief volunteer, traveling throughout the region serving people in need. In 1990 she was nominated for the Clara Barton Award for the Red Cross, In September of 1991 she was named the Red Cross Volunteer of the month, and worked as a family service technician for the Red Cross in the aftermath of the 1989 Earthquake in San Francisco, CA. After her husband's death she worked towards a new New York State law of guilty but mentally ill. She was an avid gardener, was a volunteer of Red Cross Disasters, and enjoyed spending time with family.
Surviving are: 2 daughters, Debra (Bruce) Bingerman, Great Valley, New York, Anita Barrett, Jamestown New York; a son, Perry "Chuck" Barrett, Salamanca, New York; a daughter in law Donna Kenjockety, Salamanca, NY , 4 grandchildren; 4 great grandchildren; a twin sister, Jane Biscup, Lakewood, New York; several nieces and nephews.
She was predeceased by a son, Thomas Barrett, 3 sisters, Elaine Farnham, Marion Halley, Doris Thesing, 4 brothers, John Rider, Charles Rider, James Rider, and Fred Swasing.
There will be no visitation.
Family will greet friends for a half hour prior to a Mass of Christian Burial which will be held on Wednesday at 10:00 AM in Our Lady of Peace Parish with Rev. Patrick Melfi, pastor, as celebrant.
Burial will be in Calvary Cemetery, Salamanca, New York.
Funeral arrangements are under the direction of the O'Rourke & O'Rourke Inc. Funeral Home, 25 River Street, Salamanca, New York.
E-condolences can be sent to john@orourke-orourke.com or posted to facebook.com/onofh.