Jeffrey H. Peterson
Beloved Husband, Son, Friend, Professor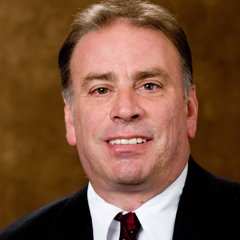 Beloved Husband, Son, Friend, Professor
Jeffrey H. Peterson, age 51, of Salamanca, New York died early Monday morning, February 11, 2013 at The Bradford Nursing Pavilion, Bradford, Pennsylvania, following a courageous battle with cancer.
Born July 1, 1961 in Olean, New York, he was the son of Howard (Laurie) Peterson, Salamanca, New York and the late Jo Ann Lyle Peterson-Streit. He was married on December 30, 1989 in the United Presbyterian Church in Randolph, New York to the former Laura Lynch, who survives.
Dr. Peterson was a graduate of Salamanca High School Class of 1979, received his Bachelor's Degree from Alfred University in 1983, received his Master of Science in Finance from Texas A & M University in 1984, and received his Ph.D in Finance from University of Alabama in 1991.
He was employed for 29 years at St. Bonaventure University, first as a professor of finance and for the last 16 years as the Chairman of the Department of Finance.
Dr. Peterson was a member of the United Congregational Methodist Church, Elkdale Country Club, Jensen Owners Club, and the American Chess Club. He was Vice Chair of the Board of Public Utilities Commission and was a member of the Joint Lease Committee, the Twin Tiers Sports Car Club, and the WNY British Car Club.
Surviving besides his wife and father are: a brother, Jonathan Peterson, Westminster, MD; a sister, Jennifer (David) Van Slyke, Rochester, New York; several nieces and nephews.
Memorial visitation will be held in the O'Rourke & O'Rourke Inc Funeral Home, 25 River Street, Salamanca, NY on Friday, February 15, 2013 from 4 – 7 p.m.
A memorial service will be held in the United Congregational Methodist Church on Saturday at 11 a.m., with Rev. Michael Lonto officiating.
A memorial service will be held in St. Bonaventure University at a time to be announced.
In lieu of flowers, the family suggests memorials to a charity of the donor's choice.
E-condolences can be sent to john@orourke-orourke.com, or posted to facebook.com/onofh.