JoAnn Minner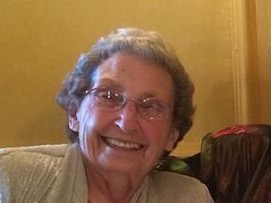 Mrs. JoAnn Minner, 77, of Salamanca, New York died Thursday night, September 10, 2015 at Buffalo General Hospital.
Born March 11, 1938 in Jamestown, New York, she was the daughter of the late Joseph and Lorene Curtis Clayton. She was married on November 7, 1959 in Falconer, New York to Mr. Paul F. Minner, who predeceased her on June 17, 2010.
She had been employed as a Registered Nurse at the former Salamanca District Hospital.
Mrs. Minner was a member of Our Lady of Peace Parish. She enjoyed fishing, sewing, and reading, and was a world traveler.
Surviving are: 2 daughters, Paula Copp, CA, Teresa (Kevin) Greene, Great Valley, NY; 6 sons, Paul F. (Isa) Minner, Norfolk, VA, William (Valerie) Minner, Kansas City, MO, Aaron (Penelope) Minner, Salamanca, NY, David (Erin) Minner, Port St. Lucie, FL, Joel "Al" (Sharon) Minner, Clarksville, TN, Jason (Amy) Minner, Salamanca, NY; 16 grandchildren; 9 great-grandchildren; a sister, Judith Johnson, Bemus Point, NY; a brother, Joseph (Frances) Clayton, Sumter, SC; several nieces and nephews.
She was predeceased by a grandson, Justin Copp.
There will be no visitation.
A memorial mass will be held in Our Lady of Peace Parish on Monday, September 14, 2015 at 11 a.m. with Fr. David Blake OFM, St. Bonaventure, officiating.
Funeral arrangements are under the direction of the O'Rourke & O'Rourke Inc Funeral Home, 25 River Street, Salamanca, New York.
In lieu of flowers, the family suggests memorials to the local Multiple Sclerosis Foundation.
E-condolences can be sent to john@orourke-orourke.com or posted to facebook.com/onofh.