Joyce A. O'Neil Ambuske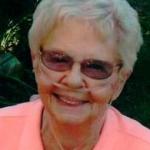 Joyce A. O'Neil-Ambuske passed away Sunday, March 3, 2019 after a long illness at home surrounded by her family.
She was born May 1932 in West Valley, NY to mother Vera Mathewson and father William Wallace.
She spent her younger years living in West Valley, NY and Ellicottville, NY. She graduated from Ellicottville Central School in 1949.
She was married in May 1952 to Jack O'Neil and had three children, Daniel, Timothy, and Shawn.
She started working in the business office at Salamanca Central School in 1966, where she made many lasting friendships and truly enjoyed her time there. In 1990, she retired from the school and married Philip Ambuske on November 3rd.
Over the next several years, she and Pete split their time living in both Florida and New York. She enjoyed spending time with her children, grandchildren, and especially her great-grandchildren.
She is survived by her son, Shawn (Denise) O'Neil of Great Valley; step-son, Richard Ambuske of Albany; grandchildren, Trevor (Jenn) O'Neil of Randolph, Ian (Sara) O'Neil of Great Valley, Caitlin O'Neil of Apex, NC, Corey O'Neil of Kill Buck, Jessica Fish of Brockton, NY; great-grandchildren, Deklan, Keirnan, Ayla, Brynn, Allie, and Conner; sisters, Thelma Vullo of Kenmore, NY, Jean Freaney of Canfield, OH; half-siblings, John (Jerry) Wallace of Angola, NY, Kathy Thies of Sanford, FL; and several nieces and nephews.
She was predeceased by her sons, Daniel and Timothy, step-sister Phyllis Green, and her husband Pete.
Friends may call at the O'Rourke & O'Rourke Inc Funeral Home, 25 River Street, Salamanca, NY on Tuesday, March 5th from 4 – 7 p.m.
Funeral services will be held in the funeral home on Wednesday, March 6th at 11am.
In lieu of flowers, donations can be made to Home Care and Hospice: Community Care of Western New York, Inc.
E-condolences can be sent to orourke.orourkefh@gmail.com or posted to facebook.com/onofh.