Katie D. Burdic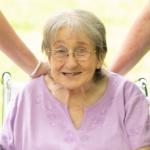 Katie D. Burdic, 78, of Steamburg, NY died Sunday afternoon, August 22, 2021 at UPMC Chautauqua surrounded by her family.
Born May 21, 1943 in Jamestown, NY, she was the daughter of the late Larry Lawson and Pauline Lawson Gould. She was married December 9, 1978 in Poland, NY to Ray "Butch" Burdic, who predeceased her in 2011.
She was a homemaker for many years and enjoyed spending time with her family, reading, doing puzzles, and true crime mysteries. She had a love for all animals and was a big Elvis fan.
Surviving are: a daughter, Jodi Washburn, Jamestown; five grandchildren, Marc (Renee) Burdic, Steamburg, NY, Jarah (Justin) Reitnauer, Olean, Kristen (James) Brentley, Bemus Point, Chance (Allie Fardink) Washburn, Ashley Lindgren, both of Jamestown; two great-granddaughters, Tifftin Joylyn Chiarelli, Franklinville, Layla Katie Reitnauer, Olean; a sister, Barbara Stegall, Rome; several nieces and nephews.
She was predeceased by a daughter, Lori Lindgren, and a son, Robert Buehl.
There will be no visitation.
A private graveside service will be held at Sunset Hill Cemetery, Jamestown, NY.
In lieu of flowers, the family suggests memorials be sent to EARS, P.O. Box 445, Salamanca, NY 14779.
Funeral arrangements are under the direction of the O'Rourke & O'Rourke Inc Funeral Home, 25 River Street, Salamanca, NY.
E-condolences can be sent to orourke.orourkefh@gmail.com or posted to facebook.com/onofh.