Kenneth Hubbard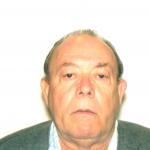 Kenneth C. Hubbard, 72, formally of Salamanca, New York died Jan. 10, 2021, at NHC HealthCare, Sumter, South Carolina.
Born April 15, 1948 in Salamanca, he was the son of Francis and Bernice Burt Hubbard.
Mr. Hubbard was a veteran of the U.S. Air Force, serving during Vietnam.
He had been employed as a machinist by Dresser Rand, Cummings, and Bordens. Surviving are: one daughter, Rebecca Hubbard of Chaffee; a son, Danny (Josie) Hubbard of Randolph; three grandchildren, Zachary Hubbard, Savana Hubbard, Ireland Hubbard; three brothers, Dennis (Phuoc Vuong) Hubbard, William Hubbard, James Hubbard; two sisters Artie Hubbard, Debbie Shepherd.
He was predeceased by two brothers, Timothy Hubbard and Thomas Hubbard and two sisters, Patricia Reed and Judith Connell.
A private family service will be held at a future time.
Friends may call at the O'Rourke & O'Rourke Inc Funeral Home, 25 River Street, Salamanca, NY on Saturday, January 30, 2021 from 1:30 – 3 p.m.
E-condolences can be sent to orourke.orourkefh@gmail.com or posted to facebook.com/onofh.