Kimberly M. Earley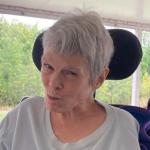 Kimberly M. Earley, 63, of Lakeview, NY, died Monday, February 27, 2023 at home.
Born September 9, 1959 in Salamanca, NY, she was the daughter of the late William L. Sr. and Joan R. Harvey Early.
She was a graduate of Salamanca High School, Class of 1978.
Kimberly had been employed at Sub Con Industries, Olean, NY.
She enjoyed spending time with her family, bike riding, cooking, playing in the Great Valley creek, writing letters full of love to her friends and family, going with her mom on her rural paper route, and traveling with her parents. She had also participated in the Special Olympics in swimming.
Survivng are: four brothers, William Earley, Winter Haven, FL, Michael (Kathleen) Earley, Kill Buck, NY, Robert Earley, Jeff (Lori) Earley, both of Salamanca, NY.
Private funeral services were held at the convenience of the family.
Burial was in Wildwood Cemetery, Salamanca, NY.
E-condolences can be sent to orourke.orourkefh@gmail.com or posted to facebook.com/onofh.