Krista M. Brooks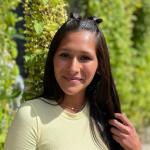 Krista M. Brooks, 28, of Kill Buck, NY died Friday evening, June 17, 2022 at Olean General Hospital following a short illness.
Born October 24, 1993 in Olean, NY, she was the daughter of Christina N. John of Kill Buck and the late Dennis L. Brooks.
She was an enrolled member of the Seneca Nation of Indians and the Hawk Clan.
She was a graduate of Salamanca High School, Class of 2012 and attended Jamestown Business College, Jamestown, NY.
Krista had been employed as a payroll specialist with the Seneca Nation of Indians and had previously been employed with Seneca Promotions.
She enjoyed spending time with her family and loved to cook and bake. She also enjoyed traveling and doing outdoor activities with her children, as well as watching lacrosse games.
Surviving besides her mother are: two sons, Hudson and Hendrik Jimerson; a daughter, Noelle Jimerson; her companion, Jesse Jimerson, all of Kill Buck, NY; two sisters, Cheyenne Brooks, Olean, NY, Terri Brooks, Jimersontown, NY; a brother, Clifford Brooks IV, Carrolton, NY; a paternal grandmother, Marlene Brooks, Kill Buck, NY.
She was predeceased by her paternal grandfather, Clifford Brooks, maternal grandparents, Milburn and Irene Redeye John.
Friends may call at 5976 Route 417, Kill Buck, NY 14748, beginning Monday afternoon, June 20, 2022 and continuing all day Tuesday.
Funeral services will be held at 5976 Route 417, Kill Buck, NY 14748 on Wednesday at 10a.m. with Speakers of the Coldspring Longhouse officiating.
Burial will be in Memorial Heights Cemetery, Jimersontown, NY.
Funeral arrangements are under the direction of the O'Rourke & O'Rourke Inc Funeral Home, 25 River Street, Salamanca, NY.
E-condolences can be sent to orourke.orourkefh@gmail.com.